With the holiday season approaching gift guilt becomes a regular occurrence in our lives. It is too bad that gift guilt is not widely discussed, since it impacts a lot of people.
In this article, I want to shed a light on different aspects of this phenomenon and give you tips on how to deal with gift-receiving and gift-giving anxiety.
What Is Gift Guilt?
Guilt is a negative emotion that one experiences because they are convinced they have caused harm to the other.
Related to this, gift guilt occurs when we feel we didn't deserve a received gift or we didn't give a good enough gift.
How to Recognize Guilt?
Guilt sometimes manifests itself in physical symptoms such as insomnia, digestive issues, stomach pain, muscle tension, head pain, and/or tearfulness. Those symptoms easily resolve themselves when you deal with the issue that is causing a feeling of guilt.
This feeling can happen on many different occasions in your everyday life and to help you cope with these situations we have compiled a comprehensive guide containing different sorts of problems and solutions to them.
This article will talk about two types of gift guilt separately so in order to read about the type that applies to you click on the appropriate link below.
You Feel Uncomfortable Receiving Gifts (Gift Receiving Anxiety)
From an early age, we are taught to feel grateful when we receive a gift. We also are expected to give something in return in the future.
Thus we are conditioned to feel like we owe something to a person that has done something good for us. This often leads to a feeling of guilt if we don't manage to return a favor.
You really shouldn't feel bad in these situations, because most often the other person doesn't expect anything in return and is doing this just to make you feel good.
This is exactly how you should feel – happy and good!
To clarify this, let's take a look at an example:
You are meeting Emily for a coffee. Emily is an acquaintance from your previous job that you stayed in touch with but are not close to. Emily comes to your meeting bringing a gift (a candle and some chocolates) because she remembered that you recently had a birthday. You thank her for this gift but feel uneasy because you didn't expect it. You were never that type of friends to give gifts to each other and now you feel the pressure to remember her birthday, meet with her for that occasion, and buy her a gift. This is a textbook example of gift guilt. Emily is probably just being polite and is happy to see you after a long while. Enjoy the coffee and let go of the guilt.
Most people like the act of giving by itself. They love to shop for a gift, wrap it up, and see the smile on other person's face when opening it. They are doing it just to be nice, and the fact that you have trouble receiving a gift might be in your self-esteem.
Why Do You Have Trouble Receiving Gifts?
Sometimes the problem lies in your self-esteem. You feel like you don't deserve this gift. If that's the case you should start to work towards a more positive self-image.
The bigger problem is when gift-receiving leaves you with the feeling of owing. You feel you have to reciprocate the gift, but don't want to. The solution for this can only be in open communication but more about this later in the article.
How to Accept an Unexpected Gift
If you find yourself in a situation when you have to receive an unexpected gift, simply say thank you.
There is no other way to be polite.
Don't mention things like you didn't give them anything or that they spent a lot of money on the gift. Just be happy and enjoy the time with them.
By giving thanks you show the other person respect and acknowledge their effort.
This is all they wish for really.
How to Refuse a Gift Without Gift Guilt
The bad news is there is no way to politely refuse a gift at the time of receiving a gift.
But the good news is that by open communication you can refuse all the future gifts from that person.
If you don't want to get any more presents from that person in the future you should talk to them in private.
Explain that you really appreciate the time you spend with them and that is something you value more than receiving gifts.
If you are on your minimalist and declutter journey, clarify that.
Try to reach a mutual understanding of what it is you want to receive and give in the future. If that is just time, ask for that. If you feel like gift cards are a better solution for presents, share that with them.
The best way is to be respectful, open, and understanding.
Letting Go Off Gifts
We tend to hold on to gifts we don't like especially because of gift guilt.
This causes us to have homes full of stuff we don't want because we don't want to appear ungrateful.
Don't feel bad if you want to declutter gifts you don't like!
Marie Kondo, the queen of decluttering, says this:
"The true purpose of a present is to be received, because gifts are a means of conveying someone's feelings for you. When viewed from this perspective, there is no need to feel guilty about parting with a gift that ultimately doesn't spark joy."
The received gift has already fulfilled its purpose.
There is always an option to find another person who might need or want that item to pass it onto them.
Your Opinion Shouldn't Cause Gift Guilt
I have to put this here for all times. Don't feel guilty or bad if you don't like the present you receive!
Your opinion means something. If you receive a gift that is not to your taste don't hold on to it just because of gift guilt. Pass it on to somebody else who will appreciate it more.
There is no use in holding on to stuff you will never use. This is how you end up with a cluttered home overfilled with stuff.
Gift Giving Just for the Purpose of Gift Giving
I know that I mentioned that most people like to give gifts to make somebody happy.
However, some people give gifts just for the purpose of gift-giving. These are people who either have gift guilt or want to get rid of a received gift they don't like.
You will instantly recognize those gifts because they will be something opposite of what you like. Imagine if you receive a bag of coffee and you never drink coffee!
You will politely accept this gift in these instances, but please don't continue this circle of guilt!
There is absolutely no need for you to return the gift in the future, especially if that person is not close to you.
If it is, give them a meaningful gift they will like, and maybe that will teach them a lesson.
The Stress of Gift Giving (Gift Giving Anxiety)
This one is familiar to all of us, I think.
Holidays are approaching and you have no idea where to start on planning the perfect gifts for your close ones.
Some plan months in advance what they will give for Christmas! Do you really want to live with that kind of pressure?
The point of holidays, and any other important days, is not in the gift-giving. It is in the time you spend together, the joy, the experience. For some, it is also of great religious importance.
Read on to find tips on how to manage gift-giving anxiety.
Gift Giving Expectations
I already covered this one in the Gift Receiving Anxiety part, but I will touch on it also here.
You feel obliged to give a gift to someone. This is more of a chore for you than a joy.
The best example of this is when you are given a present by someone who is not close to you and you feel you owe them to return the favor.
Unfortunately, there are societal expectations to give gifts to acquaintances such as co-workers, relatives, your partner's friends and family, etc.
This phenomenon is based on tradition and it is often hard to fulfill all of the expectations on a daily basis.
Gift-giving requires time and money which you might not always have. It is best to mutually come to an agreement that gifts come with no strings attached.
Is Your Gift Good Enough?
Sometimes you might feel like you didn't spend enough money on gifts. Or you think you should have bought more presents.
More physical things cannot be an excuse for what you really want to give more of. More time, more laughter, more happy memories.
This is a special type of gift guilt and is especially common among parents.
You have to remind yourself that you are doing the best that you could and that MORE is not a gift.
Give your children (or anybody else) the most important gift. The real and present you. Give them your full attention, your happy self, and it will always mean more than better toys!
RELATED ARTICLE: 23 Minimalist Gifts for Kids of Different Ages (Fun & Clutter-Free)
Reduce Your Gift Giving List
Reduce the number of people on your gift-giving list. Keep only the people who are the closest to you, who you deeply appreciate in your life.
The number of people on this list is individual to your circumstances.
Maybe you have a bigger family or bigger gift-giving budget so your list will be longer. Or you only have few closest people and decide you will only give gifts to them.
Have difficult conversations with the people you want to remove from the list.
Come to a mutual understanding. Sometimes it won't go according to your plan, but it is important to focus on your end goal. It is to keep to your budget and reduce stress and gift-giving anxiety.
Remember you want to keep your life simple, not make it more complicated.
RELATED ARTICLE: 55 Amazing Christmas Gifts for Minimalists: Gift Guide
How to Choose an Appropriate Gift
Even after reducing the list and having those difficult conversations, sometimes you end up in situations where you have to give gifts.
How to choose an appropriate gift then?
Determine a spending limit.
Agree beforehand on what to give to each other.
If you plan on buying something pricey, see if you can organize it as a group gift. Ask other people if they want to participate in buying that gift with you.
You can also organize a Secret Santa gift exchange in bigger groups. In that way everyone gets something and nobody breaks the bank.
Buy something people will actually use in their everyday life.
If you need ideas on what to give find our list below!
Please note that this article contains affiliate links, and that means that I may earn a small commission if you buy something at no additional cost to you. Read my full disclosure here.
Ideas for Useful Presents
Here you can find some ideas for useful and more sustainable presents. I also compiled a gift guide for minimalists packed with great ideas for presents.
Gift cards – similar to money, but less controversial. If you don't like the idea of giving money, gift cards for their favorite store are always a good idea.
Food and drinks – good chocolate, fine wine, everybody loves that, right? And you know that it won't go to waste! My favorite chocolates are Ferrero Rocher, have you tried them?
Subscription boxes – help them start a new hobby! Green Craft Subscription Box for Kids, Self-Care Book Box, and Succulents Box are just some great examples of the subscription boxes available.
DIY gift – if you feel creative you can always opt-in for making a gift on your own. Here is a tutorial for a plant terrarium, something I enjoy creating for my friends.
Flowers – they smell nice, are a beautiful decoration, and don't cost much.
Ask them! – Do you know how you will never be wrong? Simply ask them what they want. Most of the time your close ones will share what they want or need. This is my favorite way of handling my gift-giving anxiety!
Looking for perfect non-clutter gifts for your kids? Check out the gift guide 23 Minimalist Gifts for Kids of Different Ages!
Pin for later: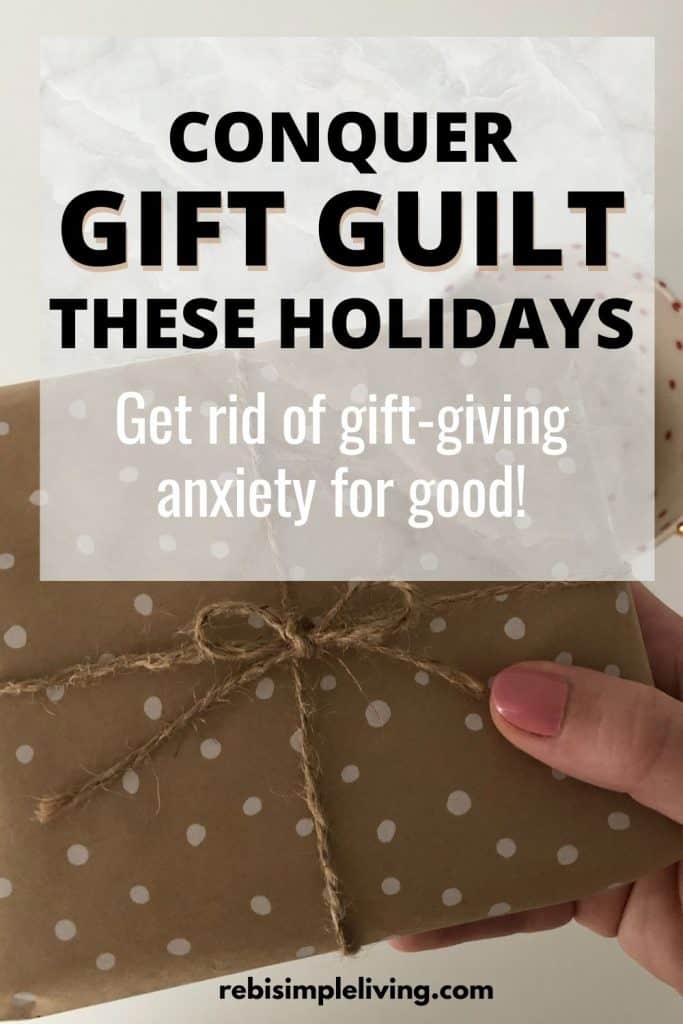 Get Rid Of Gift Guilt for Good
Here are the main takeaways from this article:
Have open conversations
Agree that gifts come with no strings attached
Don't feel guilty when decluttering gifts
Give simple and useful gifts
Determine a spending limit
Reduce your list
Give your time and energy not things
You are enough
Your opinion is valuable
Have you ever felt the feeling of gift guilt? Share with us your experience in the comments!