The end of the year is fastly approaching and to get you in a happy mood for the holiday season I compiled a list of beautiful November quotes to inspire you to enjoy this month to its full potential!
Don't feel sad that the weather is getting worse, practice gratitude, and enjoy the benefits of the colder weather (reading under the blanket anyone?).
Hello November Quotes
It seems like the year has begun yesterday and it's already November. Happy 1st November, hope you will enjoy this month as much as all the ones before it:
We are approaching the end of the year and the weather is starting to get more dreary, but that's no reason to feel down. November has a great deal to offer and we have the best holiday season to be excited about!
"November's sky is chill and drear, November's leaf is red and sear." – Sir Walter Scott
"November always seems to me the Norway of the year." – Emily Dickinson
"There is October in every November and there is November in every December. All seasons melted in each other's life." – Mehmet Murat ildan
Insightful November Quotes
Days are getting shorter and they are gloomy and cold. There is no other way to say it: the winter is coming.
However there is no need to dread November days, you can always find something to look forward to.
"There comes a time when people get tired of being pushed out of the glittering sunlight of life's July and left standing amid the piercing chill of an alpine November." – Martin Luther King, Jr.
"So dull and dark are the November days. The lazy mist high up the evening curled, and now the morn quite hides in the smoke and haze; the place we occupy seems all the world." – John Clare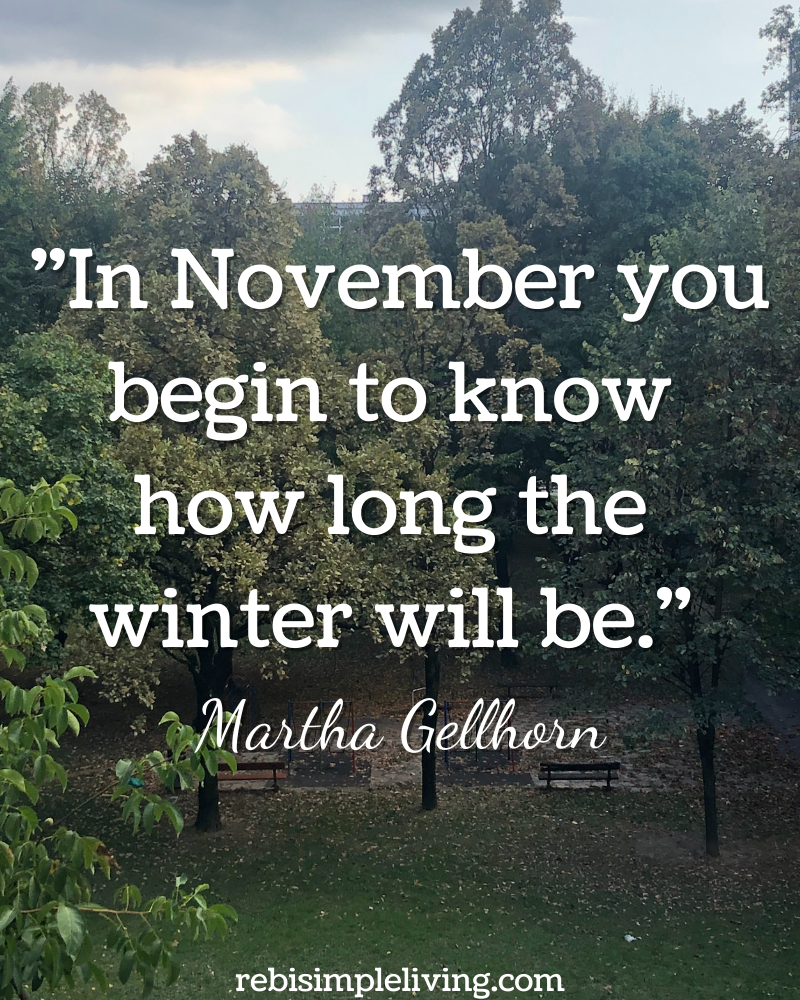 "In November you begin to know how long the winter will be." – Martha Gellhorn
"The month of November makes me feel that life is passing more quickly. In an effort to slow it down, I try to fill the hours more meaningfully." – Henry Rollins
A Month To Be Thankful
American Thanksgiving is celebrated on the fourth Thursday of November and this year it falls on November 25.
Take the time this month to appreciate everything you have and to spend quality time with your loved ones.
The best Thanksgiving quotes:
"Don't wait until the fourth Thursday in November, to sit with family and friends to give thanks. Make every day a day of Thanksgiving!" – Charmaine J. Forde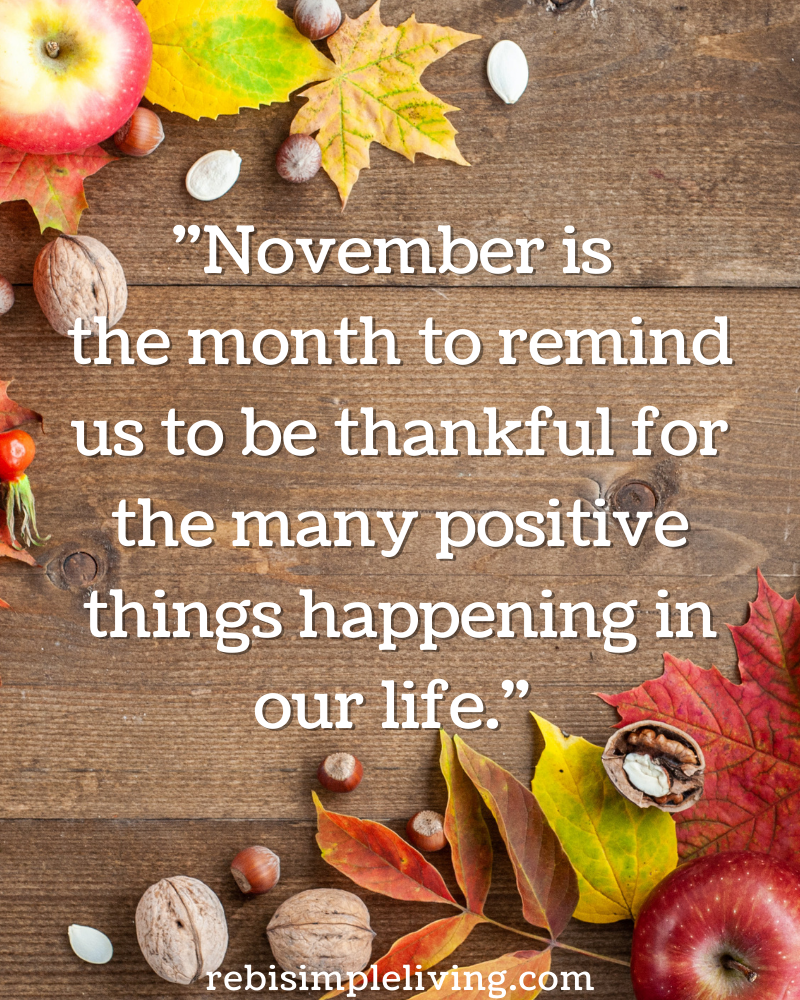 "November is the month to remind us to be thankful for the many positive things happening in our life." – Unknown
"In November, people are good to each other. They carry pies to each other's homes and talk by crackling wood stoves, sipping mellow cider. They travel very far on a special November day just to share a meal with one another and to give thanks for their many blessings – for the food on their tables and the babies in their arms." – Cynthia Rylant
Best November Quotes for Instagram
Sometimes you just want to post something seasonal to Instagram and sound smart. Trust me, I get it. That's why I bring you a list of short and sweet November quotes for Instagram.
Use your favorite one as the copy of your next post or create a beautiful image with a November quote in the center.
"November at its best—with a sort of delightful menace in the air." – Anne Bosworth Greene
"Now in November nearer comes the sun down the abandoned heaven." – D. H. Lawrence
"Fallen leaves lying on the grass in the November sun bring more happiness than the daffodils." – Cyril Connolly
"Some of the days in November carry the whole memory of summer as a fire opal carries the color of moon rise." – Gladys Taber
"The house was very quiet, and the fog—we are in November now—pressed against the windows like an excluded ghost." – E.M. Forster
"How sad would be November if we had no knowledge of the spring." – Edwin Way Teale
Beautiful November Inspiration
Although it might not seem like that, November has a lot to offer. In this article, I want to focus on the positive sides of this month and make you excited for each day to come.
While nature is preparing for winter sleep, get ready for sweater weather, layered outfits, cozy evenings with a good book, and all the pumpkin-flavored treats!
"In November, the earth is growing quiet. It is making its bed, a winter bed for flowers and small creatures. The bed is white and silent, and much life can hide beneath its blankets." – Cynthia Rylant
"November comes and November goes. With the last red berries and the first white snows. With night coming early and dawn coming late, and ice in the bucket and frost by the gate. The fires burn and the kettles sing, and earth sinks to rest until next spring." – Clyde Watson
"The leaves fall, the wind blows, and the farm country slowly changes from the summer cottons into its winter wools." – Henry Beston
"The thinnest yellow light of November is more warming and exhilarating than any wine they tell of. The mite which November contributes becomes equal in value to the bounty of July." – Henry David Thoreau
"But there is always a November space after the leaves have fallen when she felt it was almost indecent to intrude on the woods…for their glory terrestrial had departed and their glory celestial of spirit and purity and whiteness had not yet come upon them." – L.M. Montgomery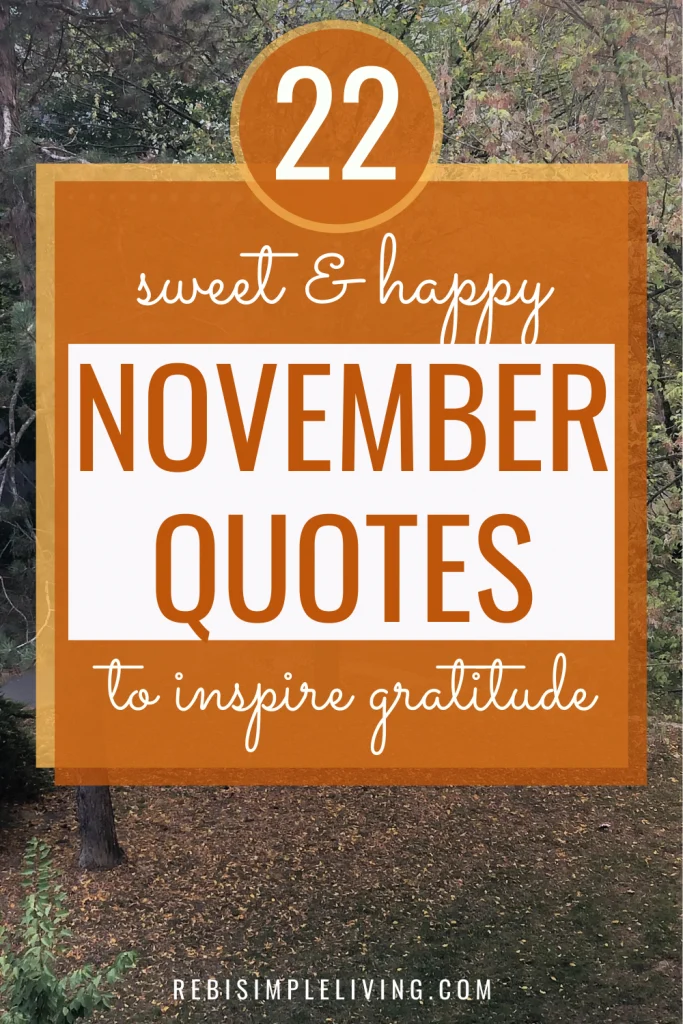 Please note that this article contains affiliate links, and that means that I may earn a small commission if you buy something at no additional cost to you. Read my full disclosure here.
How to Use These November Sayings
Each month I bring you different seasonal quotes to inspire you to live each day to the fullest. The quotes for the month of November are no different.
However, this month is the month of gratitude and I would put that as the focus for this month.
Make a list of all the things to be grateful for.
These can be things that come from your interior life and that you can influence:
Personal life
Material possessions
Career
Physical accomplishments
But you can also be grateful for the outside riches in your life which you cannot influence:
Nature
Weather
Health
Spiritual world
I practice a really simple gratitude exercise each morning and it helps me set the tone for the day. You only need a small notebook and a pen and to write 5 things you are thankful for that day. 
This also helps to have a retrospect for the day before. Sometimes the things I write are really basic like yesterday's dinner, but that doesn't matter. It's important to come up with 5 things you are grateful for each day no matter how bad you might feel that day.
Need inspiration for your gratitude practice? Take a look at the list of 492 things to be grateful for.
Use these quotes as prompts for your gratitude list and get inspired to go out and enjoy each day. Because the best is yet to come aka the Christmas season! 🙂