There are so many wonderful things we take for granted but should be thankful for.
Everyday things, such as springtime and fresh snow, should not go unappreciated.
You can never know what tomorrow will bring so acknowledge how great today is by expressing gratitude for everything you have.
Here is an article about many things to be grateful for today!
What is Gratitude?
Gratitude is an act of recognition and appreciation of everything you have in your life. Whether it be good or bad you should continually express your gratitude towards different things because they brought you to where you are today.
In addition to that, according to Harvard Health, gratitude is continually associated with greater happiness. It makes you more optimistic towards your life, keeps you humble, and fosters stronger and better relationships.
How to Practice Gratitude?
Practicing gratitude is a really helpful tool for dealing with uncontrollable life changes and stressful situations. By focusing on the good, you consciously avoid dwelling on the bad. All of this leads to a sense of more peace and control over your life. But as it turns out being grateful is not a feeling you magically get on command.
Start a gratitude journal
The easiest way to start practicing gratitude is by keeping a daily journal where you write down at least three things that made you feel grateful. You can also try writing about what went wrong, and then finding one good thing in the situation that allowed the day to end well. This exercise will help shift your response away from habitual pessimism and take a more balanced perspective of life's ups and downs.
Once you've written your list of entries, go back later and re-read them with an attitude of appreciation for how much good there actually is in this world despite all its flaws!
Sometimes it's hard to start naming things you are thankful for right off the bat, and that's perfectly fine. Some people use the alphabet approach where they write one thing they are grateful for each letter of the alphabet.
If you need more guidance, take a look at our list of things to be grateful for. It contains many different and unique things that will inspire a sense of gratitude and get you going with your gratitude practice.
List of 492 Things to Be Grateful For
Below you can find a list of unique, deep, simple, even funny things to be grateful for.
Read through the whole list or jump through different categories, it's your choice!
Moments to Appreciate
1. Making someone laugh
2. Spending quality time with loved ones
3. Playtime with your kids
4. Spending Thanksgiving with your family
5. Watching birds in the sky
6. Meeting new people
7. Long Facetimes with the friends that moved away
8. Receiving an unexpected present
Simple Things to Be Grateful for Every Day
9. Good weather
10. Laughter
11. Warm bed after a long, exhausting day
12. Kindness of strangers
13. Long weekends
14. Deep conversations
15. Gifts
16. Movement
17. Dance
18. Exercise
19. Date night
20. Kisses
21. Hugs
22. Holding hands
23. Beaches
24. Pools
25. Gyms
26. Hobbies
27. Sleeping in
28. Sports that we love to watch or play
29. Self-care days
30. Coffee shops
31. Bakeries
32. Paintings
33. Sculpture
34. Modern art
35. Museums
36. Art galleries
37. Documentaries
38. Good hair day
39. Beauty treatments
40. Yoga
41. Meditation
42. Prayer
43. Fashion
44. Going for a walk
45. Doing 10.000 steps a day
46. Photography
47. Magazines
48. News
49. Weather forecast
50. Curtains
51. Toiletries that make taking care of our hygiene piece of cake
52. Clothes
53. Jewelry
54. Watch to make sure you're on time
55. Farmers markets and fresh produce
56. Instruments
57. Blankets and getting cozy underneath
58. New haircut
59. Fresh bedsheets
60. Good hair days and confidence that it comes with
61. Mornings
62. Evenings
63. Hotels where you can relax like a king
64. Hostels that enables you to travel cheaply
65. Shopping malls make it so easy to find everything you need
66. A clean home
67. TED talks that inspire you
68. Fireworks
69. Coloring books
70. Treating yourself
71. Poetry
72. Fiction novels
73. Self-development books
74. Comic books
75. Pumpkin season
76. Warm bed
77. Warm summer evenings
78. Lazy days
79. Staying in and relaxing at home
80. Christmas
81. Christmas lights
82. Christmas tree
83. New Year to start anew
84. Gardening
85. Thriving houseplants
86. Vertical gardens (it's so easy to have a garden nowadays)
87. DIY projects
88. Polite neighbors
89. Tattoos that help you express your personality
90. Piercings
91. Inspirational stories
92. Umbrellas
93. Greeting cards
94. Makeup
95. Getting your nails done and feeling pretty
96. Getting mail and not knowing what you'll get
97. Fine china
98. Beautiful interiors
99. Home decor
100. Versatile clothing pieces that help you keep the number of clothes you own at normal size
101. Sneakers that make it so easy to run like a champ
102. Fresh look with new clothes
103. Warm coat on a winter day
104. Comfortable shoes
105. Good mattress
106. Cup coasters
107. Getting flowers
108. Hair tools that make your hair look nice
109. Long summer days
110. Backups of stuff so you never lack anything
111. Toothpaste
112. Souvenirs from around the world
113. Receiving a postcard
114. Clean hair
115. Cats purring
116. Dogs smiling
117. Food supplements
118. Sparkling clean windows
119. Bills paid on time
120. Safe travels & homecoming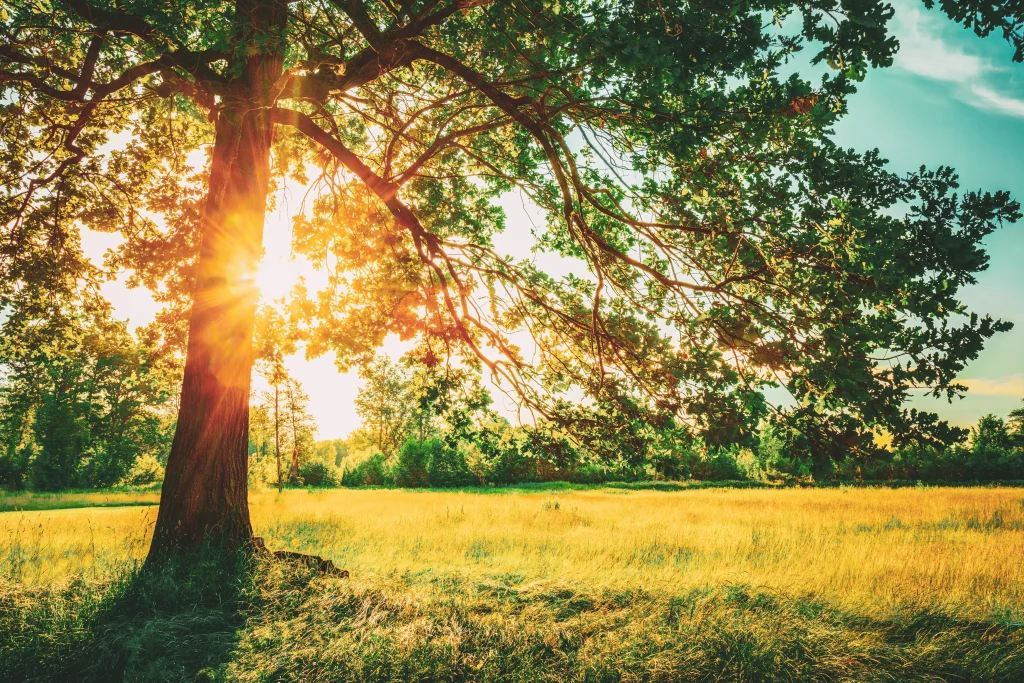 Nature Is the Art of God
121. Mountains
122. Forests
123. Flatlands
124. Deserts
125. Wetlands
126. Animals
127. Sunrises
128. Sunsets
129. Oceans
130. Rivers
131. Seas
132. Rain
133. Snow
134. Our planet
135. Trees
136. Bees
137. National parks
138. Parks
139. Waves
140. Fish
141. Flowers
142. Coral reef
143. Spring blooms
144. Leaves changing colors in the fall
145. Colorful butterflies
146. The Sun
147. The Moon
Fun Experiences to Remember for Life
148. Concerts
149. Theatres
150. Musicals
151. Exhibitions
152. Fairs
153. Camping
154. Glamping
155. Hiking
156. Sightseeing
157. Amusement parks
158. Festivals
159. Going to the movies
160. Picnics
161. Flying a kite
162. Roadtrips
163. Daytrips
164. Scuba diving
165. Adrenaline activities
166. Foraging
167. Unplanned adventures
168. Living abroad
169. Getting a facial
170. Traveling
171. Birthdays
172. Parties
173. Celebrating holidays
174. Going to brunch with your friends
175. Trying out new restaurants
176. Getting a massage
Things to Be Grateful for in Lockdown
177. Good health
178. Your body
179. Breathing
180. Health insurance
181. Vaccines
182. True Information
183. Physical strength
184. Emotional strength
185. Ability to take care of others
186. Ability to worry about others
187. Cell phones
188. Technology
189. Books
190. Movies
191. TV shows
192. Music
193. Internet
194. Podcasts
195. Audiobooks
196. Crossword puzzles
197. Cards
198. Board games
199. Video games
200. Disinfectant
201. Masks
202. Medication
203. Delivery services
204. Streaming services
205. Time for yourself
206. Breathing exercises
207. Being able to work out at home
208. Essential workers
All the Yummy Food
209. Fruits
210. Vegetables
211. Grains
212. Coffee
213. Tea
214. Milk
215. Smoothies
216. Apple pies
217. Wine
218. BBQ
219. All sorts of cheese
220. Pizza
221. Pancakes for breakfast
222. Fresh croissants in the morning
223. Organically grown food
224. Vegan substitutes for dairy & meat
225. Chocolate
226. Fast food
227. Sweets
228. Alcoholic beverages
229. Chips and crackers
230. Icecream
231. Perfectly ripe avocado. That's what I call good luck!
232. Freshly baked cookies
233. Pasta!
234. Sparkling water (bubbles make everything feel better)
235. Lots of choices to eat whatever you want
Funny Things to Be Thankful For
236. Cute babies
237. Kittens
238. GPS. Imagine your travels without one!
239. Cocktail hour
240. Sex
241. Jokes
242. Stand-up comedy
243. Perfectly painted nails
244. Toilet paper
245. Rugs because they make floors feel soft and cozy
246. Fridge
247. Freezer
248. Washing machine
249. Batteries
250. Cleaning solutions
251. Vacuum cleaner
252. So much choice when it comes to anything
253. Saunas (seem funny at first but are so good after getting used to them)
254. Fabric softener
255. Cat videos
256. Dog parks and all the funny dogs you meet there
257. Hot showers
258. Fuzzy socks
259. Warm slippers
260. Comfy PJs
261. Snooze button
262. Essential oils
263. Tiny houses
264. When the bus driver waits for you!
265. Getting something for free
266. Funny shaped clouds
267. Same day delivery
268. Watching your cat watching birds
269. When your partner doesn't snore
270. Free parking spot on a busy street
271. Superheroes to keep us inspired to do better
Unique Things to Be Grateful For
272. Ability to learn
273. Living in a safe neighborhood
274. Ability to feel pain so you know when something is wrong
275. Crying clear your eyes and your soul
276. Social media can be a positive thing if you use it carefully
277. Different personalities (otherwise life would be boring)
278. People we look up to
279. Trying new foods
280. Compliments
281. Being intimate with your partner
282. Ability to trust other people
283. The feeling of moisturized skin
284. Three meals a day because a lot of people can't say the same
285. Getting stuff done
286. Glasses to see better
287. Sunglasses because they protect your eyes
288. SPF because it protects your skin
289. Grocery stores
290. Any milestone in your child's life
291. Fireplace
292. Spa & wellness experience after which you feel like a brand new person
293. Silk feels wonderful on your skin
294. Cotton
295. A good night's sleep
296. Dreams
297. Mastering new recipe
298. Real apologies
299. All the memories from our lifespan
300. Foreign languages
301. Fairytales
302. Folklore that brings a unique perspective to each nation
303. Mythology
304. Air purifiers to help you breathe much easier
305. Being spontaneous
306. Quiet time
307. Journaling
308. Stars on a clear night
309. Being single and putting yourself first
310. The feeling after a good workout
311. Your secret, favorite place
312. Winning a game
313. Warm soup on a cold day
314. Childhood friends
315. The fact that the world is your oyster!
316. Building furniture piece by yourself
317. That moment when you wake up and the rest of the world is still asleep
318. Thinking you'll be late and arriving on time
319. Being able to protest for what you feel is right
320. Having the freedom to do with your body what you want
321. Feeling true happiness
322. The ability to say no
323. Fresh starts
324. Being greeted by your pet when you come home from a long day
325. Having people to rely on
326. Storage space in your home where you can hide all your junk 🙂
327. When sunlight hits the room and everything looks magical in that space
Things That Get Us from A to B
328. Cars
329. Public transportation
330. Bikes
331. Planes
332. Taxis
333. Carpooling
334. Ferries
335. Ships
336. Scooters
337. Electrical cars
338. Trains
Big Things to Be Grateful For
339. Your family
340. Your partner
341. Children
342. Your siblings
343. Grandparents
344. Pets
345. Old friends
346. New friends
347. Family traditions
348. Reproductive organs
349. Birth of a child
350. Having a safe home
351. Financial stability
352. Savings
353. Healthy finances
354. Buying your first home
355. No debt
356. Investments
357. Donating
358. Therapy
359. Mental health
360. Volunteering
361. Getting engaged
362. Weddings
363. Investing in artwork for your home
364. When your home renovation is finally finished
365. Deep intimacy that comes from a long-lasting relationship
366. Good communication with your partner
367. Conversations you can only have with your mom
368. Stories to tell your grandchildren
369. Approved loan at the bank
370. Heating
371. Air conditioning
372. Indoor plumbing
373. Electricity
374. Installations
375. Productivity
376. Quality production that builds long-lasting items
377. Furniture
378. Construction (a trade that makes your dream home possible)
379. Smart homes
Things to Be Grateful for as a Teenager
380. Good grades
381. Favorite teacher
382. Passing your driving test
383. First kiss
384. Falling in love
385. Piggybank that gets fuller and fuller
386. Prom night
387. Graduation
388. Pens and pencils
389. Calculators, imagine a life without them!
390. Kindergarten where you make first friends
391. Your school that teaches you about life
392. University where you aspire to go one day
393. Free resources online
394. Going on a study exchange
395. Not having acne, if you're a lucky one
396. Passing all the exams
Things at Work to Be Thankful For
397. Your job
398. Work desk
399. Your computer
400. Good office chair
401. Your boss
402. Your colleagues
403. Remote work
404. Offices
405. Earphones
406. Fridays
407. Completing a difficult task
408. Payday
409. Receiving good feedback
410. Promotion
411. Ambition to do better
412. Challenges
413. Spellchecker
414. Lunch break
415. Slower periods when you have time to relax a bit before the busy period starts
416. A planner that helps you organize your day
417. Stretching after a long workday
418. Ability to grow in your career
419. Ability to change your career mid-life
420. Useful apps that save you time
421. Useful blogs
422. Paid internships
423. Landing your dream job
424. Being content with your CV
425. Crushing those phone calls! (they can be terrifying)
426. Learning how to write professional e-mails
427. Weekends
428. Paid time off
Different Occupations to Be Grateful For
429. Teachers
430. Doctors
431. Firemen
432. Nurses
433. Police
434. Inventors
435. Entrepreneurs
436. Artists
437. Farmers
438. Engineers
Deep Things to Be Grateful For
439. Freedom to be whoever you want to be
440. Faith
441. Education
442. Democracy
443. Fresh air
444. Beautiful nature
445. Clean water
446. Love
447. Freedom of speech
448. Diversity
449. Sight
450. Sound
451. Taste
452. Smell
453. Touch
454. Ability to feel emotions
455. Childhood
456. Growth
457. Talent
458. Creativity
459. Seasons of life
460. Growing older and becoming wiser
461. Self-confidence
462. Mistakes
463. Failures
464. Heartbreaks after which you appreciate true love more
465. Past
466. Present
467. Future
468. Sadness
469. Honesty
470. Standing true to your beliefs
471. Suffragettes
472. Peace
473. Colors
474. Curiosity
475. Not going hungry to bed
476. Genes that make you a wonderful mix of your ancestors
477. Public safety measures
478. Recycling
479. Mother tongue
480. Your country's culture
481. The 7 wonders of the world
482. Fall
483. Summer
484. Winter
485. Spring
486. Oxygen
487. Fire
488. Life
489. Your country
490. God
491. Being privileged
492. Yourself. There is only one of you in this world and you are truly unique.
Pin it for later!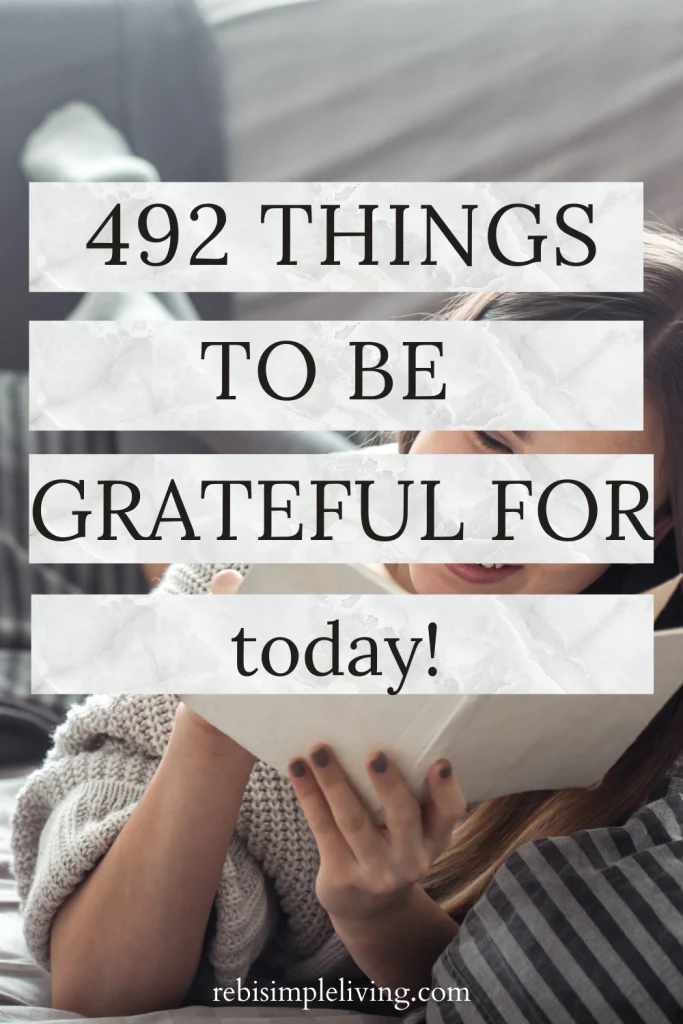 ​​How to Use This List
The list of things to be grateful for was created with the goal of helping people be more grateful and happier. I included a lot of different, and maybe unexpected things, and I am sure there are many more things to be thankful for in our lives. 
It's important to appreciate even bad things because we grow from them and they make us more grateful for the good days.
Use this list for a daily gratitude practice. If you don't know what things to be grateful for, this list not only serves as a great starting point but also reminds you of things we often take for granted.
Today, I'm most grateful for my family, that everyone is healthy, and for a delicious lunch I just had! 🙂