Do you get overwhelmed by the too ambitious New Year's resolutions you set for yourself? In this article, I bring you 15 simple and minimalist New Year's resolutions that will improve the quality of your life and are easily achievable.
In the following paragraphs, I go over the basics of goal setting and tips to keep your resolutions this year, but if you want to skip directly to the beginning of the list click here.
What Is a Resolution?
A resolution is a decision to do or not to do something; it's a goal that you set for yourself to achieve. People make resolutions in order to change bad habits in their lives.
Since the New Year marks the beginning of a new life cycle it's a perfect time to set goals and resolutions, but many people don't manage to keep their New Year's resolutions.
Why? Because they make too many resolutions and put too many expectations on themselves in the beginning. They go hard at first but soon they get burned out and quit.
Think about how many times you decided to lose weight and for the first week or two you followed a strict diet and exercise routine, but quit before the first month was out. Why is it always like that?
Because strict plans that make you give up so many things are not sustainable. You cannot expect yourself to work out every day and eat only salads for longer than a couple of weeks, if you also work a full-time job, have kids, and/or other responsibilities.
What Are Good New Year's Resolutions?
Good New Year's resolutions are manageable and actionable goals that don't require a lot of everyday effort to achieve.
For me, minimalist New Year's resolutions are good New Year's resolutions whether or not you live a minimalist lifestyle.
They are simple, positive, and healthy actions that will (if you keep up with them) improve the quality of your life significantly.
How to Make (And Keep) New Year's Resolutions?
Don't put too much stress on yourself this year. Go minimal with your New Year's resolutions. It's better to focus on a few goals and achieve them than to set 10 huge goals and set yourself for failure already in the beginning.
Here is how you will keep your New Year's resolutions this year:
Make Realistic Resolutions
Keep it simple. You can make healthy and positive changes in your life even with small, actionable goals.
You should be able to do these things regularly so make sure that the New Year's resolutions you make are realistic for your lifestyle.
The list of minimalist New Year's resolutions below will give you ideas on what achievable resolutions look like.
Write Your Resolutions Down
Be intentional while you are making the New Year's resolutions. Really think about what you want to achieve in the following year and how you can get there.
Once you decide on your resolutions write them down somewhere where you will look often. When you write something down it becomes almost official, and you feel more responsibility to stick to it.
If you don't write your resolutions down you will more likely forget about them before January ends.
Make Your Goals Actionable
Any goal you make should be actionable and measurable. What does that mean?
For example, if you want to lose weight don't just write I want to lose weight.
Set a measurable, more specific goal like lose 10 pounds.
Then divide that goal into smaller actions that will lead you to achieve your bigger goal step by step. That could be to exercise 3x a week, drink more water, consume 500 calories less than you used to, etc.
***Take a look at how I formulated minimalist New Year's resolutions below. All of them start with a verb, and they are active, i.e. something you can do. Goals can never be passive or just wishes.
This way you can more easily track your progress and feel more motivated along the way. There is less chance for you to give up if you regularly achieve small goals.
Give Yourself Enough Time
It takes anywhere between 18 and 254 days to form a new habit, and 66 days for a new behavior to become automatic.
Don't get discouraged if you find it hard to implement your resolutions daily. Persevere, and do them as often as you can. Once you repeat specific action so many times it will become automatic, but you have to stick with it for some time.
Think of yourself as a piano player. You would have to practice one piece over and over again until you can play it perfectly. It's the same way with your New Year's resolutions. Give yourself time to get used to them and you will succeed.
Pin it for later!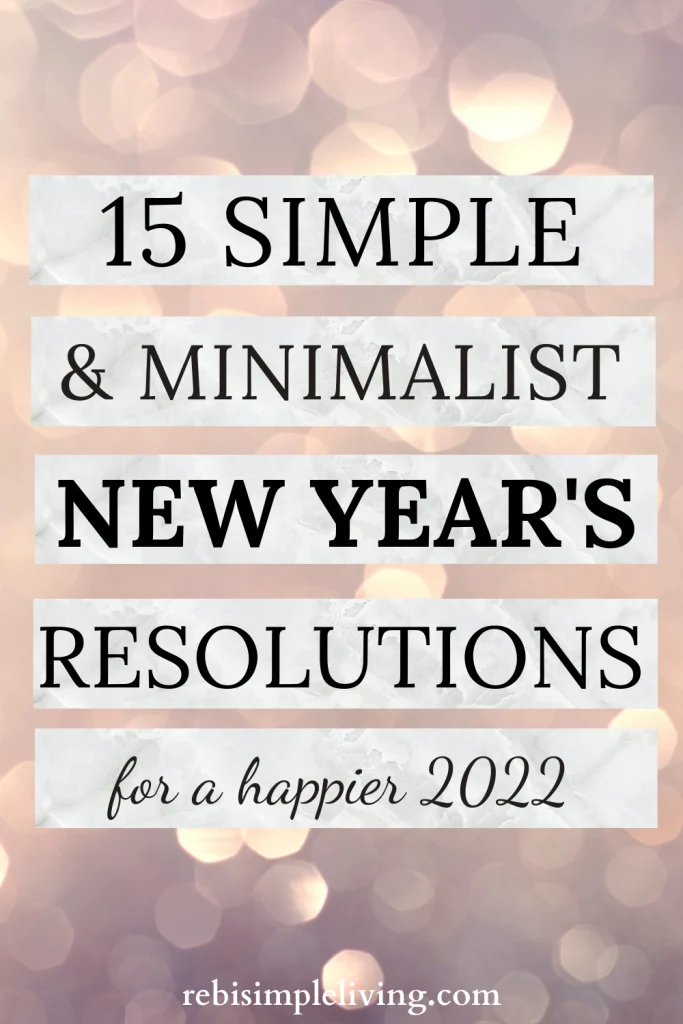 15 Truly Good Ideas for Minimalist New Year's Resolutions
While compiling this list of minimalist New Year's resolutions I wanted to include simple, yet life-changing goals that will in a not-so-obvious way impact your life for the better.
I also wanted to come up with ideas for minimalist New Year's resolutions that can inspire anybody whether:
you are just starting with your minimalism journey,
you are an experienced minimalist,
or you just want to simplify your New Year's resolutions this year.
Hope you find value in them.
1. Complete the Minimalism Game
Are you just starting out with minimalism and don't know where to begin?
Try our 30-day minimalism challenge that focuses not only on your material belongings but also on your wellbeing in general.
It's comprised of 30 different everyday assignments which will ease you to a whole minimalist lifestyle.
2. Say No More Often
Do you find yourself often stressed out by all the appointments and tasks that you agreed to? In 2022, be more selective with your time.
Say no to the appointments that will not bring you any value, and ditch the tasks that don't contribute to the quality of your life.
Focus your time and attention on the most important things and actually give yourself enough leeway to finish those key projects.
3. Make Better Purchase Decisions
Whether you're a minimalist or not, frivolous shopping doesn't benefit anyone. A good New Year's resolution is to make better purchase decisions.
Be intentional. Go shopping only when you need something. Know your budget.
When you're considering if you should buy something ask yourself the following questions:
How many hours do you need to work to pay for that item?
Can you postpone the purchase until the item is on sale?
If the item wasn't on sale would you pay the full price?
Those three simple questions do the trick for me while I'm trying to be smarter with my money.
By practicing minimalism, I organically stopped buying some things for good, if you want to know more about it, click here to read the article.
4. Limit Your Screen Time
Do you spend your whole day looking at different screens? Not only does that worsen your eyesight and gives you headaches, but it can also lead to severe health problems like obesity, anxiety, and sleep problems.
While you cannot limit your screen time at work (assuming you work an office job), you can definitely limit it in your free time.
Choose to spend your free time doing activities that don't include your phone or computer. Make a rule not to bring your phone to bed and don't look at any screens at least an hour before going to sleep.
5. Practice Mindfulness
Mindfulness is the ability to be fully present at the moment and to turn on all your senses in order to fully experience life.
Mindfulness practice includes different meditations, which bring a lot of health benefits and help cure different conditions, such as:
Anxiety
Insomnia
Depression
High blood pressure, etc.
If you want to improve the quality of your life immensely make mindfulness your core focus in 2022.
6. Find the Workout You Like
For a lot of people, exercise has become a chore they start to despise just because they feel like they HAVE TO do it in order to stay healthy and fit.
But that's not the point.
Working out should make you feel happy. It's time only for yourself and you should look forward to it.
In 2022 make it your goal to find a type of workout that you actually like. That can be anything from yoga and pilates, to weight lifting, but also a simple walk around the park.
It doesn't have to be anything elaborate or expensive.
Give yourself time to try out different types of exercise and see what you like. Once you start enjoying your workout you will see results much faster.
7. Read Every Day
Reading enables you to discover new worlds without leaving your couch. It opens you up to new points of view and makes you escape your daily stresses.
It's also an activity that doesn't include any screens and helps your brain wind down.
Incorporate daily reading as your minimalist New Year's resolution. You can read a couple of pages each day before work to relax before the day starts. Or you can opt-in to read before bed to fall asleep more easily.
Whatever you choose, it will improve your life a lot through the year.
8. Volunteer
Helping out others not only feels good, but studies have shown that it can be good for your health too.
Find a cause you believe in and offer your time and help. Start volunteering and see how you feel.
There are so many people in the world that could use your help that it feels really good to be useful to someone. And it's probably the most rewarding New Year's resolution out of all.
9. Start a Gratitude Journal
Gratitude is a feeling of thankfulness for something. While you can feel gratitude without putting any effort into it, you can also be intentional about it and reap more benefits.
Gratitude can increase your long-term happiness, improve sleep and physical health, and also improve your relationships.
It's a good idea to start a New Year with a gratitude journal and note the things you are grateful for daily. This doesn't have to be anything fancy, you just need a notebook and a pen.
Start simple and write each day 5 things you are grateful for. Sometimes it will be hard to come up with anything, in those moments look at this list of things to be grateful for to get you going.
10. Declutter Mindfully
Decluttering is a most common minimalist New Year's resolution and there is so much advice on decluttering online but I often find myself thinking how wasteful it is.
I don't like how decluttering has almost become a race or a competition on who will declutter more and have less stuff. Minimalism is NOT about that.
That's why I want to introduce a new approach – mindful decluttering.
When you start the process of decluttering truly think about the items you want to get rid of. Check if you will maybe need those things in the future and if they are easily replaceable. Things don't always have to spark joy, they can just be useful.
Don't throw away things mindlessly because you're on a decluttering high.
If you plan to donate items put the time in the research on who needs those belongings the most.
*Personally, I like to give stuff to people I know because I know they will actually use those items. When you donate to a big charity you will never be able to put a face behind a person who received your belongings. Also, sometimes they receive too much of the same things which cause an even bigger issue for the poor countries.
11. Prioritize Your Mental Health
The past couple of years have been hard on everyone and it's completely normal to feel anxious and uncertain about the future.
The year 2022 should be the year when we finally start to prioritize our mental health. If you don't take care of yourself, who will?
You can't move forward in life if you constantly feel burned out or depressed.
Seek out help and do those small things that make you happy.
Incorporate a self-care routine into your week and notice how much better you feel!
12. Grab Hold of Your Finances
Are you someone that lives from paycheck to paycheck? Nobody should live with that level of stress.
Make 2022 the year when you finally grab hold of your finances and start being smart with your money!
Write all your expenses for a month and analyze them. Notice where you spend the most money and where you can cut down expenses. Create a monthly budget for yourself and put a specific percentage of your paycheck towards debt or savings each month.
Don't spend your hard-earned money on things you don't need.
13. Make Most of Your Meals at Home
Prepare homemade meals for yourself and your family. Try different recipes and have fun in the kitchen. Incorporate healthy produce and enjoy the food you cooked.
Not only are homemade meals more healthy, but they are also much less wasteful and will save you a ton of money throughout the year.
Planning in advance is the key to success here.
Go grocery shopping once a week and buy everything you'll need to prepare the meals you want to eat that week. Take a day or two each week when you prepare the bulk of your meals and store them properly.
That way you always have a delicious, healthy meal on hand.
14. Incorporate Meatless Mondays
Do you want to consume less meat but don't know where to start? Incorporate meatless Mondays into your New Year's routine.
Decide not to consume meat one day a week and try different vegetarian and vegan dishes.
Experiment with your food and you might find yourself eating more and more plant-based meals than you started from.
15. Do the No-Spend Challenge
Challenges are always a fun way to change something in your life! Get to know your spending habits and save more by doing a no-spend challenge.
You can do it for a month, a week, even just a weekend. Some decide to do a whole no-spend year in order to grab hold of their finances.
If you want to learn more about how to do a no-spend challenge I've written an article with tips to successfully complete a no-spend challenge.
Top New Year's Resolutions for 2022
I listed my top 15 ideas for minimalist New Year's resolutions in this article that I believe are truly achievable and will improve the quality of your life throughout not just this year, but your life.
These are goals that will help you along your minimalism journey and will put you at ease and not stress you out even more.
I don't believe in failure so even if you start implementing one of these minimalist New Year's resolutions and give up along the way because you found something that works better for you – EVEN BETTER!
Minimalism is just a tool on your self-discovery journey and as long as you keep working on bettering yourself then you are a true success story in my eyes!
My Minimalist New Year's Resolution for 2022
In 2022, my top New Year's resolution will be to limit my screen time.
I've been spending too much time watching Netflix and TikTok than I would like to admit to myself. So, next year my main goal is going to be to leave my phone in another room before going to sleep. Simple, and effective, but will improve the quality of my life immensely!
Share in the comments your New Year's resolutions, I would love to know! 🙂
New to minimalism? Check out some of my most popular articles to help you along the way!
Quality Over Quantity Explained by a Minimalist
How Many Clothes Do You Need as a Woman? Find The Exact Numbers
Extreme Minimalism: Is It Worth the Trouble?