Having to carry a big suitcase with you during your holiday is no fun! Check out our minimalist travel packing list for women so that you travel more lightly while still looking stylish.
This article contains all the tools that you need for minimalist travel, from the golden rules of minimalist travel to a packing list for both cold and hot weather and 5 bonus tips for easier packing.
Do Minimalists Travel?
Of course!
Minimalism is all about the experiences you value the most and lots of minimalists decide to downsize so they can travel more easily.
You can also find that most digital nomads are minimalists because it helps them travel with more freedom.
Imagine not carrying a huge suitcase and additional bags everywhere you go. Minimalist travel helps you downsize your packing list and keep only the essential items you need while traveling.
Think about how many times you brought so many clothes and make-up and you never used them.
There is no need for you to put pressure on your shoulders and back and stress about not losing any of your luggage along the way.
It is time to discover minimalist travel and make your holiday about relaxation and not about your luggage!
4 Golden Rules of Minimalist Travel
Everything minimalists do is intentional, and the same thing applies to traveling. Take into account these four rules to make your travel more meaningful.
Experiences Come First
Minimalist traveling is all about experiences!
Visit different places to experience new cultures, food, people, and do the things you haven't before.
Don't plan every step of your way because you will miss out on all the fun.
When planning your trip research the most famous attractions and have them in mind. But don't forget to leave some free time to aimlessly roam around.
I know for me the best things happen when I just walk around the city and let things happen. This way you get to see places that not many tourists do. You get to also experience the local way of living and even meet some locals.
Be a traveler, not a tourist.
Plan your accommodation and transport, and leave the rest open to possibilities.
Slow Travel
Continuing to the first point, you don't have to see everything.
Don't plan to visit 5 cities in 10 days just because they are close to each other. I can guarantee you that most of them you will not remember because you will be in such a rush.
Minimalist travel is not about checking destinations off your bucket list. It is about truly enjoying each day in a new environment and living in the way the locals are.
Ask yourself why you want to travel in the first place. Is it to experience a new culture and rest or to have an Instagram photo next to the Eiffel tower? If it's the first one, continue reading.
According to the Remote Year, slow travel is an approach to travel that relies on the idea that a trip is meant to educate and have an emotional impact.
Take your time while traveling. Don't rush to see all the sights, but take it slowly. Enjoy the food, take long strolls, meet the locals, relax, etc.
Believe me, you will have much better memories of that kind of holiday!
Sustainable Travel
Minimalists look to cause no harm to the environment by traveling.
This means they don't participate in mass tourism visiting cities that crush under it, like Venice. Some destinations are suffering because of the weekend breaks or cruise ships that leave tourists for a half-day visit. This doesn't benefit tourists nor the economy.
Also, minimalists are careful when choosing the means of transportation. A lot of us leave most of our carbon footprint by flying. Minimalists weigh their options and use more sustainable transportation if possible. For example, they travel by train, rideshare, or buses. When they arrive at their destination they use public transport, bikes, or simply go on foot.
Minimalists also pay attention to what they consume while traveling. They eat local food and carry their water bottle. It is also important for them not to throw away good food.
If minimalists decide to buy a souvenir, they will buy something hand-made and authentic, not mass-produced souvenirs that most vendors sell.
Next time you travel, try to incorporate more sustainable options. Our planet will be grateful!
Pack Less
When it comes to minimalism, less is always more and so it is with traveling.
Minimalists know what their travel essentials are and they stick to them while traveling.
There is no need to carry extra luggage "just in case". Everywhere you go you can always buy something if you are missing it, but most likely you won't.
Pack wisely and lightly and enjoy your travel without heavy luggage. For example opt-in for dresses instead of jeans and a T-shirt. Dresses look more put together and take much less space!
Continue reading for more tips and an ultimate travel packing list for women.
How Do You Travel With Minimal Luggage?
Really easy. Since I started applying minimalist principles to my travels, they have become so much more stress-free and easy.
Biggest Benefits for Me
I no longer have to care a huge suitcase with me.
My back no longer hurts when I travel.
I am more mobile when it comes to walking with my luggage.
No more stressing if I packed everything. (I can always buy it if I need it)
I always know what I will wear each day.
Traveling is so much more enjoyable and I no longer experience travel fatigue.
You can argue that it is easy to pack light, but then you accumulate things during your travels and don't have space to put them in. Don't worry, we have tips for that, too.
Buy Only Useful Stuff
While you are traveling don't buy random stuff that serves no purpose. If you plan on buying souvenirs, leave some space in the luggage for them.
Buy only the stuff you need. By that, I mean food and water, and other items you need but didn't pack. Also, if something breaks, it is normal that you replace that item.
Revisit Your Luggage After a While
Check your luggage after a couple of weeks of travel if you travel for a long time. See what you have gathered in this time. I can guarantee you that you will find stuff you forgot about!
Throw away random knick-knacks and make sure your bag looks more organized and put together than ever before.
Don't Bring Back-Up Food
Don't carry extra food with you "just in case". If you are going somewhere where stores are unavailable, of course, bring all the food you need for that time.
But most often we are traveling to places that have all the commodities and food is available at all corners. There is no need for you to be scared of food scarcity and overfill your luggage for no reason.
Minimalist Packing List for Women
A good measure when packing like a minimalist pack the things you need for one week. This will be enough even for longer trips if you take into consideration doing the laundry once a week.
Minimalist Travel Essentials for Women
Here is the list of minimalist travel essentials that you cannot forget to bring!
Please note that this article contains affiliate links, and that means that I may earn a small commission if you buy something at no additional cost to you. Read my full disclosure here.
Functional Luggage
You have to bring your stuff in something, I suggest investing in the highly functional luggage that will fit your items in an organized way.
✅ The Best Minimalist Backpack
If you prefer to carry a backpack we recommend Tortuga Setout as the best minimalist travel backpack for women although it is marketed towards men.
It is the perfect size to fit all your belongings for one or more weeks of traveling. It can also fit your laptop. Tortuga Setout is water-resistant, has lockable zippers, and has back support and a hip belt. Plus it is made of recycled water bottles, sustainable travel anyone?
Minimalist Suitcase
If you are more like me and prefer a suitcase, I highly recommend American Tourister 4 Kix. It is small and compact, lightweight, and can be easily carried. It can fit your laptop and all your stuff for one week.
Minimalist Travel Purse
As a woman, you would want to carry a purse with your luggage. It just makes traveling easier. Have in mind it should be the right size to fit a water bottle, your phone, and all your travel documents.
✅ The Best Minimalist Travel Purse
The best minimalist travel purses are messenger bags because you can carry them in front and always have an eye on them. This Travelon Women's Antitheft bag also contains a separate pocket for the water bottle.
Stylish Tote for Travel
If you are looking for something more stylish, I recommend Kenneth Cole Reaction Chelsea Business Tote. It not only looks great but is a great price and can also fit a laptop! Perfect for working while traveling.
Minimalist Travel Wallet
Best minimalist travel wallet should be small, lightweight, able to carry all your cards and documents, and be RFID protected.
✅ The Best Minimalist Travel Wallet for Women
Thread Wallets are perfect for traveling, and they come in lots of different designs.
Other than your wallet, don't forget your passport! (*If it doesn't fit in your wallet.)
Toiletries
The number of toiletries that you will bring with you depends on each individual.
Here is our recommendation of essential toiletries for women:
3in1 shampoo, body wash, and conditioner
Face wash (either foam or micellar water)
Face cream
Sunscreen
Body cream (also serves as hand cream)
Deodorant
Toothbrush
Toothpaste
Hairbrush / comb
Razor
Nail clippers / scissors
Tweezers
Q-tips
Hair ties / hair clips
Pads / tampons
Tissues
Travel Towels
Decide to buy microfiber travel towels. They don't take much space in your luggage and they dry really quickly.
✅ Best Travel Towels
This OlimpiaFit 3 Size Pack contains a face, head, and body towel and comes in a breathable mesh bag so you can easily pack and carry them. 
Phone
Your smartphone will go a long way on your travels. It can store your boarding passes and all the essential information about your trip, and help you navigate new streets.
It is crucial for you not to forget your phone and its charger!
Medicine
Pack a Small First Aid Kit, the one below is perfect for all travelers.
Don't forget to pack prescription drugs if you have to take them. Also, pack some painkillers and medicine to lower body temperature.
Minimalist Packing List for Cold Weather
This is a packing list for colder climates, you can find the one for warmer weather here.
Clothes
1 warm jacket
1 jeans
1 warmer pants
1 leggings
1 undershirt
1 T-shirt
3 long sleeve shirts
1 pullover
1 winter dress
1 cap
1 scarf
1 pair of gloves
Shoes
1 pair of boots
1 pair of sneakers
1 house slippers
Underwear & Socks
7 panties
2 bras
7 pairs of warm socks
1 pair of sleeping socks
1 pajama
Save this aesthetic packing list for cold weather so you have it at hand next time you are traveling: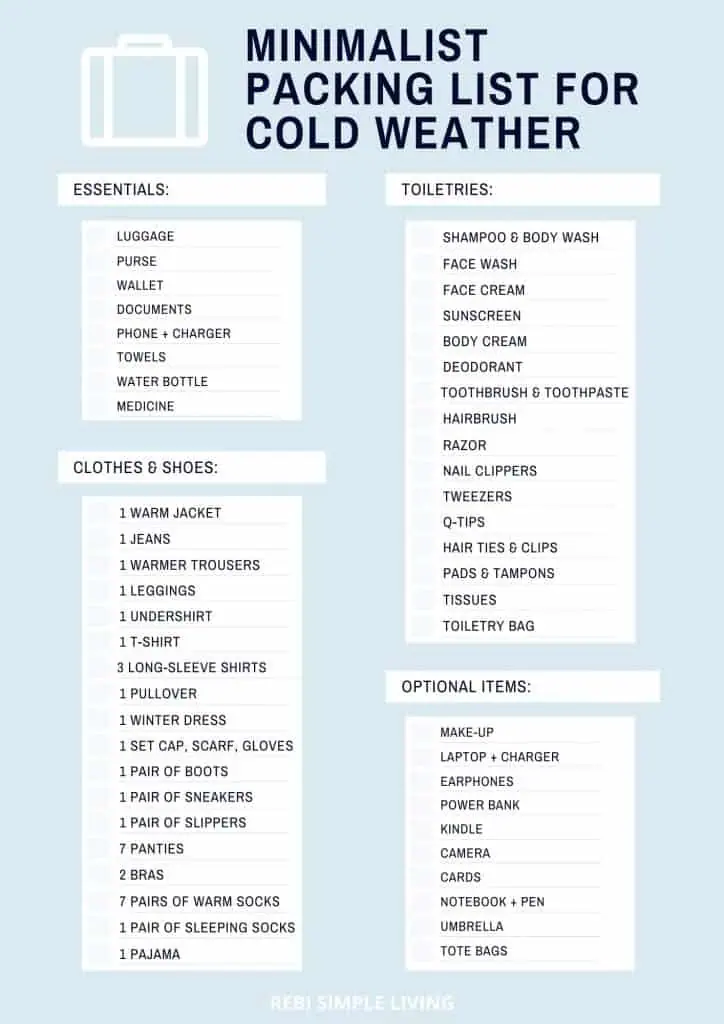 Minimalist Packing List for Hot Weather
This is a packing list for warmer climates, you can find the one for cold weather here.
Clothes
1 light jacket
1 jeans or leggings
1 shorts
1 skirt
2 dresses
4 T-shirts
1 long sleeve shirt
1 bathing suit
1 hat
Shoes
1 pair of sandals
1 pair of sneakers
1 pair of flip flops
Underwear & Socks
7 panties
2 bras
4 pairs of socks
1 pajama
Save this aesthetic packing list for hot weather so you have it at hand next time you are traveling:
Optional Items
Here you can find the list of optional items that depending on your preferences you can include in your luggage or not. If you opt-out of taking these items with you, you will still have everything you need with you.
Make-up
If you decide to bring make-up on your travels check out our Four-Step Easy Makeup Routine. It will minimize your make-up routine and make-up bag.
You will only need:
Concealer
Eyebrow pencil
Mascara
Blush
Lip balm
Minimalist Travel Accessories
Here are some of the ideas for travel accessories you might also want to bring on your trip.
Laptop / laptop charger
Power bank
Kindle
Camera
Earphones
Cards
Notebook
Pen
Travel pillow
Umbrella
Tote bags
How to Be a Minimalist Packing Queen? – 5 Bonus Tips
You will become an absolute minimalist packing queen with these 5 bonus tips! Don't miss them out. 🙂
Focus on the Quality, Not Quantity
If you are planning a longer trip, you will need long-lasting clothes and shoes. In general, you should invest more in high-quality items, they last much longer and look much more put together.
RELATED ARTICLE: Quality Over Quantity Explained by a Minimalist
Multi-Purpose Everything
So, you are looking to downsize your suitcase. The logical step is to check for multi-purpose products that will serve more than one purpose. This applies to toiletries, make-up, but also clothes and shoes. Tote bags for example are a great multi-purpose item that is always handy.
Neutral Tones
Create a capsule wardrobe for your travel. Make sure everything matches and pack clothes in neutral tones.
This way you will always look good, it will be so easy to dress in the morning, and you will be able to wash all your clothes at once. Plus neutral tones never go out of style. It's a win-win situation if you ask me.
Roll Everything
One simple trick to save space in your bag. Roll everything you can!
This mostly applies to clothes, but you can also roll your towels, and any sort of textiles you carry with you.
You can also use packing cubes for your luggage to be more organized. I recommend these Amazon Basics 4 Piece Organizer Cubes. They are simple and well priced.
Rely on Technology
Gadgets can be used in so many ways. By relying on technology you save space on books, entertainment, maps, tickets, and even flashlight. Cut the unnecessary burden on your shoulders.
Pin for later:
Conclusion
Whether you consider yourself a minimalist or not, I advise you to try to travel as a minimalist. This will, to simply put it, make your life easier while traveling. There are numerous benefits to it, and as far as I can see it no downsides.
What is the one item that you cannot travel without?
Want to know more about minimalism? Check out these articles:
7 Steps to a Successful Closet Purge and Organization
How Many Clothes Do You Need as a Woman? Find The Exact Numbers
15 Things I No Longer Buy as a Minimalist
29 Minimalist Quotes to Encourage You on Your Minimalism Journey