Celebrate your natural features and learn how to do an affordable and easy minimalist makeup routine.
Minimalist aesthetic makeup has never been this easy. Try this minimal makeup routine in just four steps.
It's finally time for natural and simple beauty to be in trend again!
Benefits of Minimalist Makeup Routine
Before we start with our four-step easy minimalist makeup routine, let's check out all the benefits of a simplified makeup routine. If you want to skip directly to the four-step minimalist makeup routine click here.
No More Stressful Mornings
How long does it take you to get ready in the morning?
Having a minimalist makeup routine is an effective way to get ready in just five minutes and always look put together.
Imagine not stressing out on what the next step in applying makeup is. Envision not thinking that you don't know what you are doing. Picture slowly drinking your morning coffee without rushing to get ready.
Sounds dreamy? Then continue reading! 🙂
Great for Beginners
When doing a minimalistic makeup routine you don't have to worry about how to apply eyeliner perfectly. Or what kind of brush you need for a smokey eye.
You don't need fancy makeup skills to look good!
A natural makeup routine is perfect for beginners because you learn how to do the basics of makeup. Each day you repeat the same four-step process. Every time you wear makeup, you use the same products.
The longer you do it the better you will get in doing your makeup.
If you later decide that you prefer a more elaborate makeup look, go for it. You will already have the basic makeup look conquered and can work from there to perfect more intricate looks.
Enhance Your Natural Beauty
When doing natural and minimal makeup you don't use a lot of products.
Whereas in complicated MUA looks you transform your face features, in minimalistic makeup you work to enhance your natural beauty.
Work with your features, don't hide them!
Take a look at your face and notice what you like the most about it. You want to accentuate that feature so that people focus on that part when they look at you. 
Don't hide the features you might not like as much but focus on the positive.
For example, I like my eyes, so I focus on my eyebrows and eyelashes when doing makeup. I don't focus on my skin, which I am not so satisfied with. You would be surprised how many compliments I get on my skin and I don't even own a foundation!
Minimalistic Makeup Routine Is Affordable
Every product that I recommend in this article is a drug store brand and affordable.
These are all products that I used in the past and was satisfied with their performance. Also, everything that I mention is cruelty-free, verified by the website Cruelty Free Kitty.
Please note that this article contains affiliate links, and that means that I may earn a small commission if you buy something at no additional cost to you. Read my full disclosure here.
Although in minimalism you look to invest in more quality products, there is simply no need to spend money on high-end makeup. There are so many good drug store brands that do the job.
Also, you want to work on highlighting your natural beauty, not hiding it with makeup.
What you want to invest money in are healthy nutrition and excellent skincare.
Your Beauty Comes From the Inside
You want to work on your natural beauty from the inside out, not the other way around.
Concentrate on your overall health and inner content.
Focus on preventing skin problems instead of concealing them. If you start with a good base, there is no need for lots of makeup to look good.
Work on your long-term beauty and a healthier look overall.
You Are What You Eat
Scientists at Oxford University discovered that you really are what you eat. They found out that diet affects the DNA sequences of our genes. That means that when you change your nutrition you can impact your health, and therefore your skin.
In order to improve the quality of your skin and solve your skin problems, you should first look into your diet.
Incorporate more fresh and simple foods like fruits and vegetables.
Add probiotics to your diet.
Avoid highly processed and fried food.
Limit the intake of sugar.
Limit the intake of dairy.
Drink at least 8 glasses of water a day.
Don't consume anything that has a complicated ingredient list.
Make an experiment and cut out these foods from your nutrition for a month. After a month see if your skin has cleared out. Figure out what kinds of food irritate your skin.
If you think it's necessary do a food intolerance test.
Invest in Good Skincare
My approach to a minimalistic makeup routine is to save on makeup but splurge on skincare.
I love to try different skincare brands. This is where I spent my beauty budget during the years. Now, I have developed a skincare routine that works for my skin and keeps my skin problems under control. I now only buy the skincare products that I consider the holy grail for me.
Some steps to take on your skincare journey:
Get to know your skin type.
Try quality, functional skincare products.
Develop a skincare routine that works for your skin.
Take off your makeup every night before going to sleep!
Invest in a good facial, every month or two.
If you are in search of a good minimalistic brand take a look at Ordinary products.
They describe themselves as clinical formulations with integrity and are functional beauty at honorable prices.
Don't Forget SPF
If you are still not applying an SPF on your face before applying makeup then now is the high time to start doing so!
You should never skip on using SPF because it:
protects your skin from UV rays.
lowers your skin cancer risk.
prevents premature aging of the skin.
helps maintain an even skin tone.
✅ The best minimalist year-round face sunscreen:
Drunk Elephant Umbra Sheer Daily Defense
Create Minimalist Makeup Collection
In order to have an effective minimalist makeup routine, you need a good minimalist makeup collection.
Here are the tips on how to make one and how to make it work for you and your budget.
Reduce Your Makeup Collection
What kind of minimalist would I be if I didn't mention decluttering? 🙂
Go through all of your makeup.
Take everything out of its place.
Discard the makeup you no longer use, is empty, or is expired.
For expiration, check out this sign on the packaging: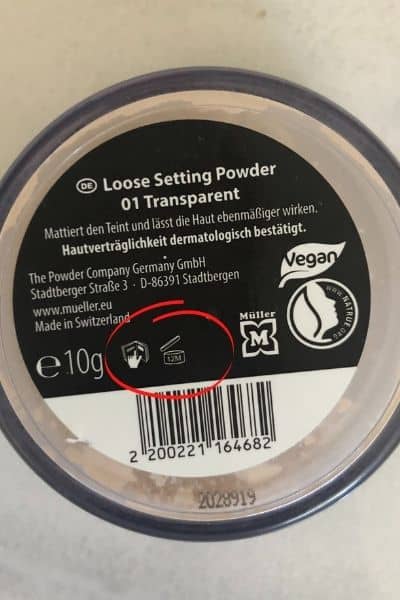 It says how long you should use a product after it's opened.
Notice what kinds of products you like and which ones didn't suit your skin very well.
Keep only your favorite makeup products.
The ultimate goal: every makeup product in your makeup collection serves its purpose to enhance your beauty.
In the end, you want to have a minimalistic makeup collection that contains only the products that suit your skin type, your skin tone, and your lifestyle.
Best Makeup for a Minimalist
The best minimalist makeup is the one that suits your skin type and skin tone the best. You don't want to have anything in your makeup collection that you don't absolutely love!
When buying new makeup take these tips into account:
Focus on neutral tones.
Search for products with dual purposes.
Make sure you have all essentials.
Invest into a product that is your holy grail.
Consider affordable options for other products.
Ask yourself: Do I really need this?
Don't forget about brushes! You want to test which type of makeup application works for you. Then decide which brushes you definitely need for your everyday minimalistic makeup routine.
Take care of your brushes. Clean them at least once a month with soap and warm water and let them air dry. This way they will last you for a long time.
Minimalist Makeup Storage
Once you create your perfect minimalist makeup collection you want to have it all in one place. That way it is easy to carry, and you always know where everything is.
Do you prefer storing your makeup in a makeup bag? Take a look at these recommendations:
Fjallraven Kanken Gear Bag for Makeup Essentials
Smaller Size Makeup Bag Perfect for Traveling
Do you like having makeup in drawers? I find these makeup storages perfect for a minimalist:
Four-Step Easy Minimalist Makeup Routine
Save time getting ready in the morning with this four-step easy minimalist makeup routine.
Find here the best makeup for an aesthetic minimalist makeup look suitable for beginners!
Step 1: Face
Before applying basic makeup make sure you clean your face and moisturize it properly. Don't forget to use a primer if your makeup needs to last for the whole day.
Then, take a look at your skin imperfections and use concealer to cover just those few spots. You can also leave some blemishes uncovered to achieve a more natural look.
With this step, you just want to create an even tone of your skin and make it look as radiant as possible.
Use setting powder if you have oily skin to make your makeup last longer.
Step 2: Eyes and Eyebrows
Brush your eyebrows and fill in the holes you might have with an eyebrow pencil. Follow the lines of your natural eyebrows and don't overdo it. You just want to even them out and make them seem a bit thicker. That way, they frame your face and make it look younger.
After you are done with the eyebrows put mascara on. Apply it in more layers to accentuate your eyes.
In this step, you want to define your eyes and eyebrows to make them the focal point of your face.
For special occasions, you can work from this base in order to build a more defined look using eyeshadow or eyeliner.
Step 3: Cheeks
This is the step where you "contour" your face. Don't worry, there are no complicated skills required. Take your blush and just apply it to your cheekbones. If you are a complete beginner be careful not to overdo it.
You want it to look like you are naturally blushing. Just a touch of pink on your cheeks.
Step 4: Lips
Similar to the face, lips should be healthy, nurtured, and moisturized before applying any makeup.
Make sure you regularly do a scrub of your lips. You don't have to use any fancy products just a toothbrush you no longer use. Scrub gently all the old skin cells away.
For your minimalistic makeup routine, only lip balm is enough.
However, if you feel you want to bring more attention to your lips use a lipliner. Make sure it is oily enough so it doesn't dry out your lips. Apply lip liner first and then lip balm. In that way this combination makes your lips pop.
You don't need lipstick if you opt for a colorful lipliner and a more basic makeup look.
Shop the Look
In this section find minimalist makeup essentials to complete an aesthetic minimalist makeup look for every day!
Real Techniques Makeup Brush Set
Drunk Elephant Umbra Sheer Daily Defense
NYX Professional Makeup Finishing Loose Powder
KIKO MILANO Precision Eyebrow Pencil
Essence Lash Princess Volume Mascara
NYX Professional Makeup Lip Pencil
ILIA Natural Color Block Lipstick
Bookmark or Pin for later!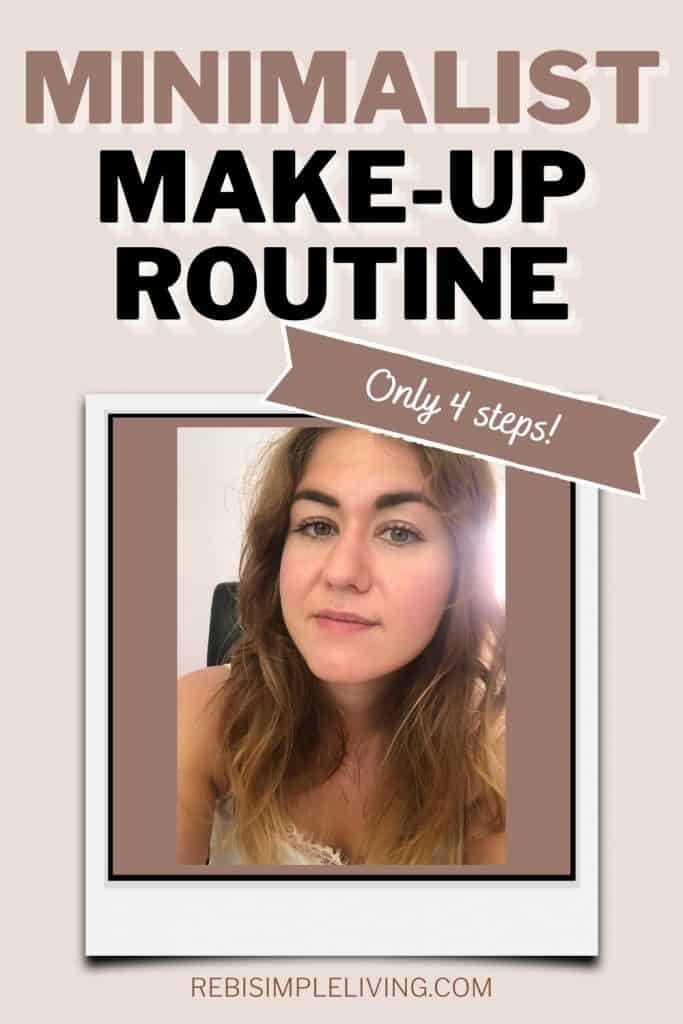 Hope you feel inspired to simplify your makeup routine and try our aesthetic minimalist makeup routine!