A simple, easy, and minimalist Halloween costume is a way to go this year!
Dressing up for Halloween doesn't have to be expensive and time-consuming. Use what you already have in your closet and create beautiful and elegant last-minute costumes! Perfect for a female minimalist.
Minimalist Halloween Costumes for Women
This short guide includes steps to recreate iconic looks from three very famous female movie characters: Holly Golightly, Wednesday Addams, and Princess Leia.
I chose these three because they are elegant and classy costumes with normal clothes that you wouldn't be embarrassed to walk around in the middle of the day.
I also wanted them to be easy costumes you can put together in a couple of minutes for which you can use items you already own. You also don't need any special skills when it comes to hair and make-up to recreate these simple looks.
However, in case you don't have everything you need for any of these costumes, I added links where you can buy all the components of these outfits and included video tutorials for each of these ladies.
So, let's start!
Holly Golightly
Holly Golightly is a legendary character from the movie Breakfast at Tiffany's portrayed by lovely Audrey Hepburn.
The most famous look from the movie features Holly wearing an elegant black dress, a statement necklace, and a tiara. This look solidified the little black dress as a staple piece of any woman's wardrobe and is the perfect minimalist Halloween costume.
Now is the time to take your best black dress for a walk!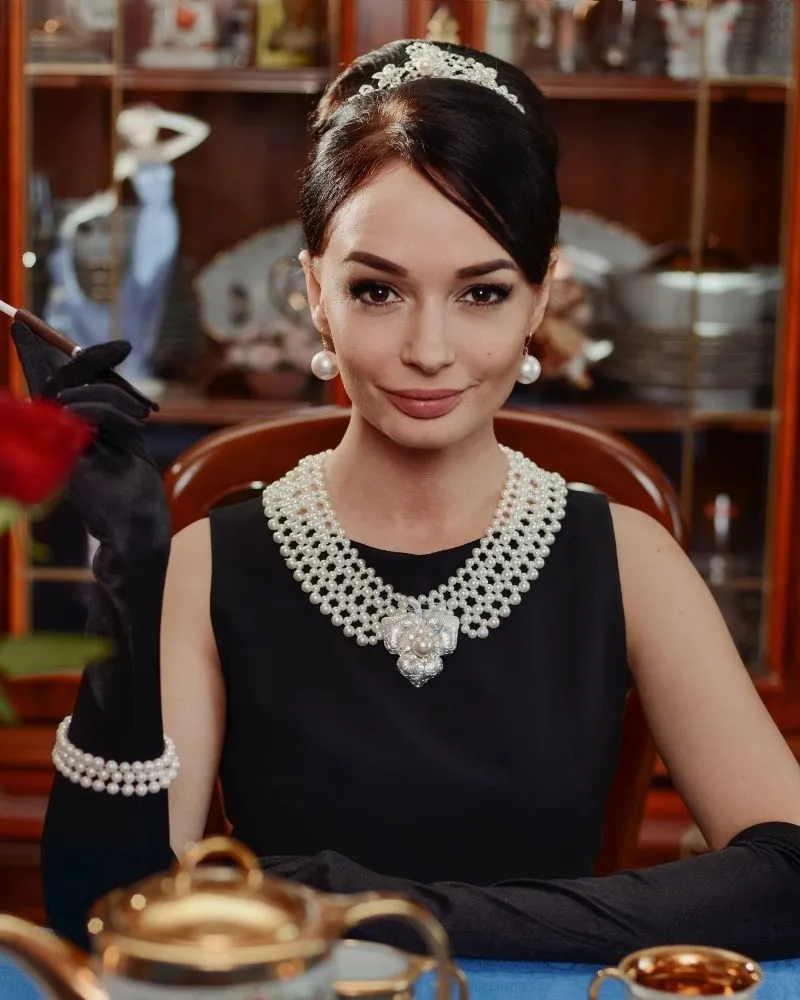 Steal the look:
Accessory Set: Necklace, Earrings, Gloves
Black Flat Shoes (so you can easily walk)
Wednesday Addams
The Addams Family is a cult Halloween movie, and Wednesday Addams is a legendary daughter whose look is recognizable by many.
It is fairly simple to recreate her look and turn it into a sophisticated and minimalistic Halloween costume. By dressing up as Wednesday Addams you will epitomize the scary essence of Halloween and maybe frighten a couple of souls! 🙂
You will need a Peter Pan collar black dress and a pair of Mary Jane pumps to create this perfect Halloween costume.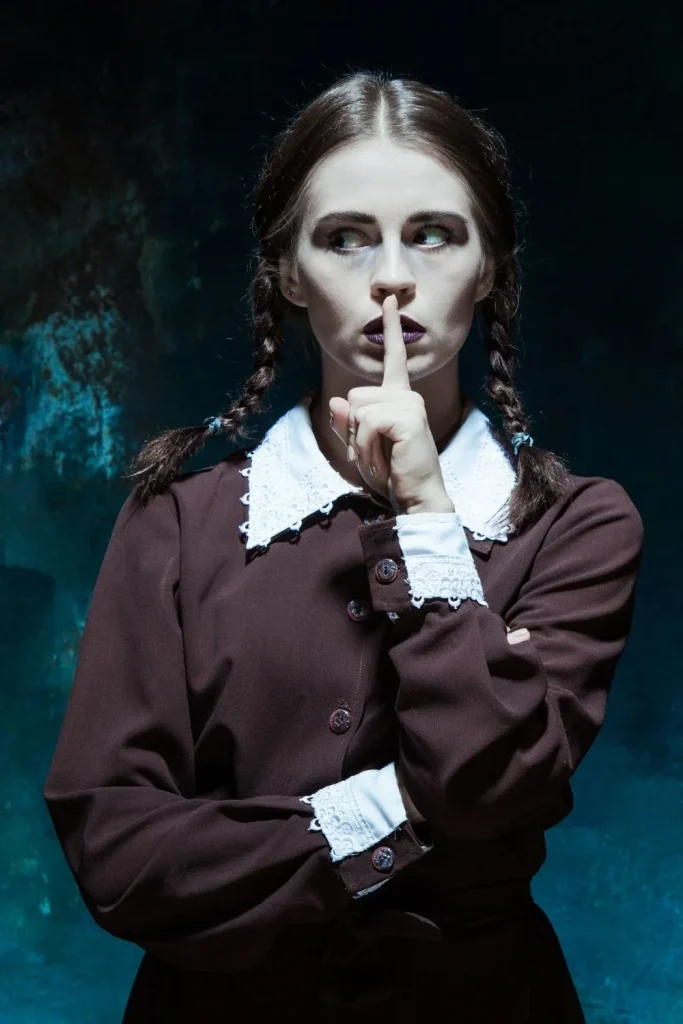 Steal the look:
Princess Leia
The legendary heroine of Star Wars, Princess Leia, is the perfect character to dress up as if you want a simple and minimalist, yet effective costume.
The hardest, yet essential part of her costume is her hairdo. You will have to tinker with your hair for a bit to get those Princess Leia buns. However, I linked to a simplified tutorial down below to make it easier for you.
Other parts of her costume are pretty straightforward, a long white dress and a wide belt and you are good to go!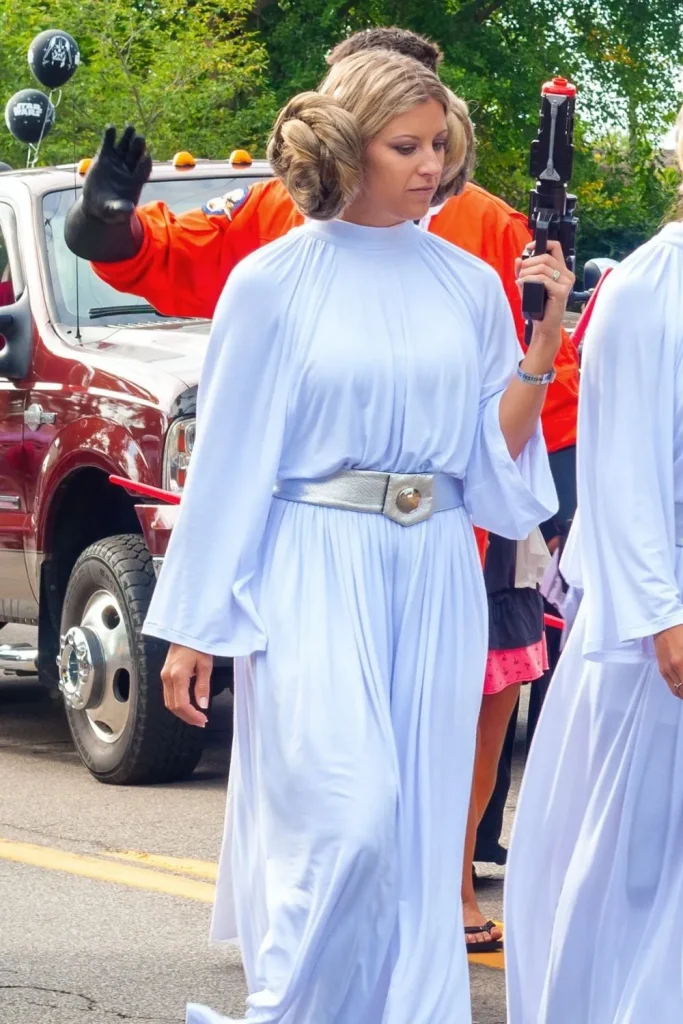 Steal the look:
White Boots (completely optional)
Last-Minute Minimalist Halloween Costumes for the Win
There is nothing better for a minimalist than to utilize what they already own for a new purpose.
This year use our simple and easy Halloween ideas to recreate one of these legendary looks using the clothes you already have.
You will feel comfortable wearing these costumes and will get no weird looks even if you decide to wear them in the middle of the day.
No waste and no stress equals maximum fun for every minimalist!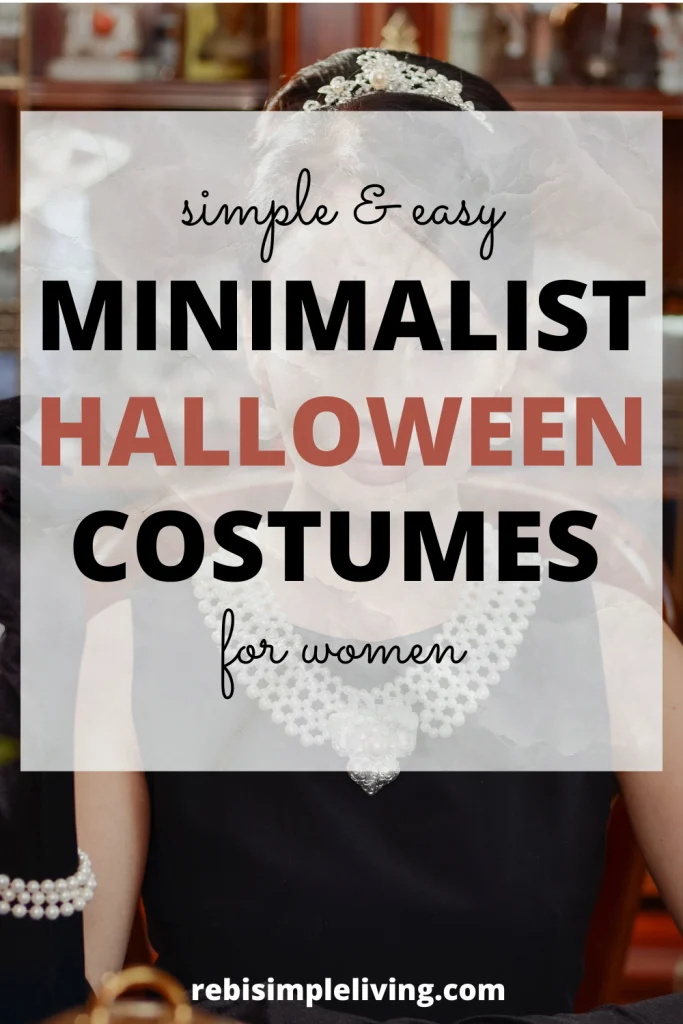 Tired of holiday anxiety? Celebrate simple, minimalist holidays this year!
Check out our minimalist holiday guides:
How to Celebrate a Minimalist Christmas (+ Decor Ideas)
55 Amazing Christmas Gifts for Minimalists: Gift Guide for 2021
23 Minimalist Gifts for Kids of Different Ages (Fun & Clutter-Free)
Minimalist Thanksgiving: Prepare Your Home for Guests in 3 Simple Steps