Holidays make you anxious and stressed out before they even begin? Decide to celebrate a minimalist Christmas this year! Simplify your holidays and enjoy the true purpose of Christmas: spending meaningful time with your family.
Find all the steps for the best minimalist Christmas in our comprehensive guide.
Why Have a Minimalist Christmas?
Ever since I was a child, I remember my mother rushing on Christmas Eve to do everything that was expected of her. She needed to clean the house, buy new decorations, decorate the house, buy all the presents, bake cakes and cookies, and finally prepare the big Christmas lunch. Even then, I knew there must be another way to celebrate Christmas.
I didn't want to spend all of my adult Christmasses in rush and stress. So I decided to create my own version of Christmas, which can be described as a version of a minimalist Christmas.
Celebrating a more minimalist Christmas will help you get rid of holiday anxiety and actually enjoy the holidays.
A simple Christmas celebration enables you to fully enjoy the true joy of Christmas. It is slowing down and spending time with your loved ones. Minimalist Christmas is also a much more sustainable practice than the consumeristic Christmas we tend to celebrate today.
How to Have a Minimalist Christmas?
In short, simplify every step of your Christmas traditions and be present in the moment.
Find below a list of tips to celebrate a simpler Christmas this year. These tips will help you create your best version of a minimalist Christmas.
1. Be Intentional
Everything you do these holidays, do with intention.
When you bake cookies or prepare a Christmas dinner, enjoy the process of doing it. Soak in all the great aromas from the cooking and take the time to slowly prepare everything. Include your family in the preparation.
While shopping for Christmas presents think about people who will receive them. Check with them if they need or want something specific. Don't buy random gifts no one will like, buy them with intention.
When you do things intentionally you pay much more attention and you take enough time to enjoy doing it. Then, the end result is so much better.
2. People Come First
The golden rule of minimalism: people come first. Gifts, food, decorations, they don't mean a thing if you don't have anyone to share them with.
Make your Christmas people-centric and put full focus on your loved ones. Spend time together, enjoy different activities, enjoy your meals together. Be present in the best way. When you do that, everything else will fade away in the background.
3. Have Open Conversations
Talk to your family. Share with them your concerns and anxieties regarding holidays. Present them with your idea of a minimalist Christmas. See if they agree with you and if they would be willing to simplify the holidays this year.
If they agree, make an agreement for each person to take the initiative of one part of the Christmas organization and split the tasks.
If they don't, you can always simplify holidays within yourself and your household. Decide not to buy new decorations, use what you have, and prepare only favorite dishes your family loves.
4. Make New Traditions
Out with the old, in with the new more relaxing family traditions.
Come up with new, fun activities for your family to spend more time together.
Making new traditions is a great way to say goodbye to the old ones.
These might be:
making ginger houses,
going to the Christmas Mass,
baking cookies together,
going caroling,
playing music together,
DIY-ing Christmas decorations, etc.
There are numerous ideas for Christmas fun, you just have to discover them!
5. Reduce Your List
Giving material gifts is a common practice during Christmas. It seems that our gift-giving list grows each year with more and more people on it. Reduce your list to only the people dearest to you. Don't be consumed with gift guilt if you decide to give fewer gifts this year.
A good minimalistic idea is organizing Secret Santa or White Elephant parties where each person gets a gift and only needs to buy one gift. You can organize that kind of party for your extended family, friends, co-workers, or even in school for your kids, etc. That way everyone is happy and doesn't have to stress too much about what to buy each person.
RELATED ARTICLE: ​​What Is Gift Guilt and How to Deal With It?
6. Buy Less Stuff
We are talking about minimalism, so it wouldn't be proper of me not to mention buying less. 🙂
As I already mentioned previously, buy with intention.
Check with your loved ones what they would like or need this Christmas.
Buy enough food for Christmas dinner, but don't go overboard so you have to throw away food.
Invest in timeless decorations. You don't have to buy new decorations each year. Buy the ones that fit your home decor.
See if you can make something by yourself if you don't already have it.
Before each Christmas season, check what you already have and only buy something if you really need it.
7. Give Your Time
You don't have to give material gifts as Christmas presents. The gift of time is much more valuable and worthy.
Spend the whole day with your grandparents doing the things they love.
Play with your kids instead of cleaning the house.
Have a romantic date with your spouse.
Volunteer.
There are so many alternative presents you can give which will be more valued in the long run.
Material possessions fade, but memories do not.
8. Reduce Wrapping
Minimalist Christmas is also about sustainability. Instead of creating a lot of waste during the holidays, minimalists decide to buy less in order to be more sustainable.
A simple tip for saving the planet is to reuse old newspapers for gift wrapping. To me, this is also a more fun way to wrap gifts, it is unexpected and quirky.
You can also wrap gifts in different cloth materials. Not only is this a really elegant way to wrap gifts, but it is also an item that can be used for later purposes.
Inspiration for Minimalist Christmas Aesthetic
Sometimes you just want your home to be aesthetically pleasing, and for this year you want minimal decorations. I understand that. The less you decorate, the less you will have to clean and take down after the holidays.
The minimalist aesthetic doesn't mean cold or stiff, it signifies tasteful home decor and just enough for your living space.
You might also have pets or kids that want to play with decorations and thus hurt themselves. For you, a minimalist Christmas aesthetic might just be the right solution.
Decorate just one room or one corner of your house.
Stick to one color of decorations.
Check what you have before you buy something new.
Your home doesn't have to scream Christmas.
Here are some examples to inspire you: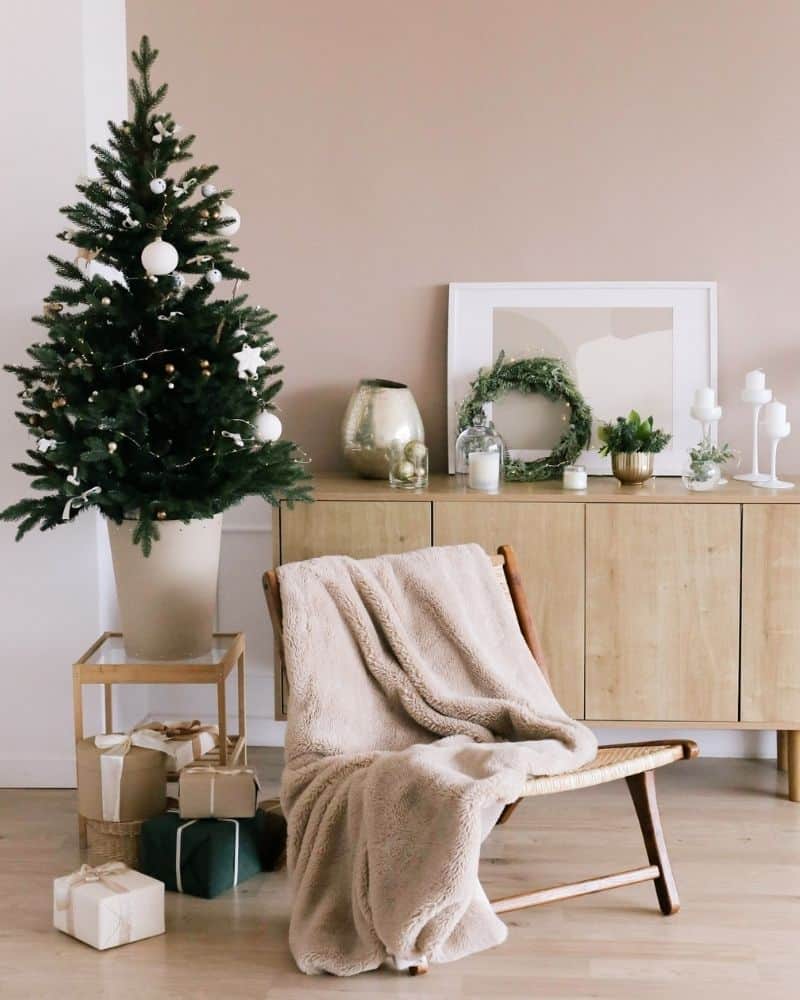 Minimalist Christmas Tree
Your Christmas tree doesn't have to bling with all sorts of ornaments if that's not your style.
Opt for baubles in one or two colors and with each year add one more meaningful ornament. Maybe you can ask for them as a Christmas present.
If you just moved to a new house you don't have to buy all the decorations at once! There is no hurry. 🙂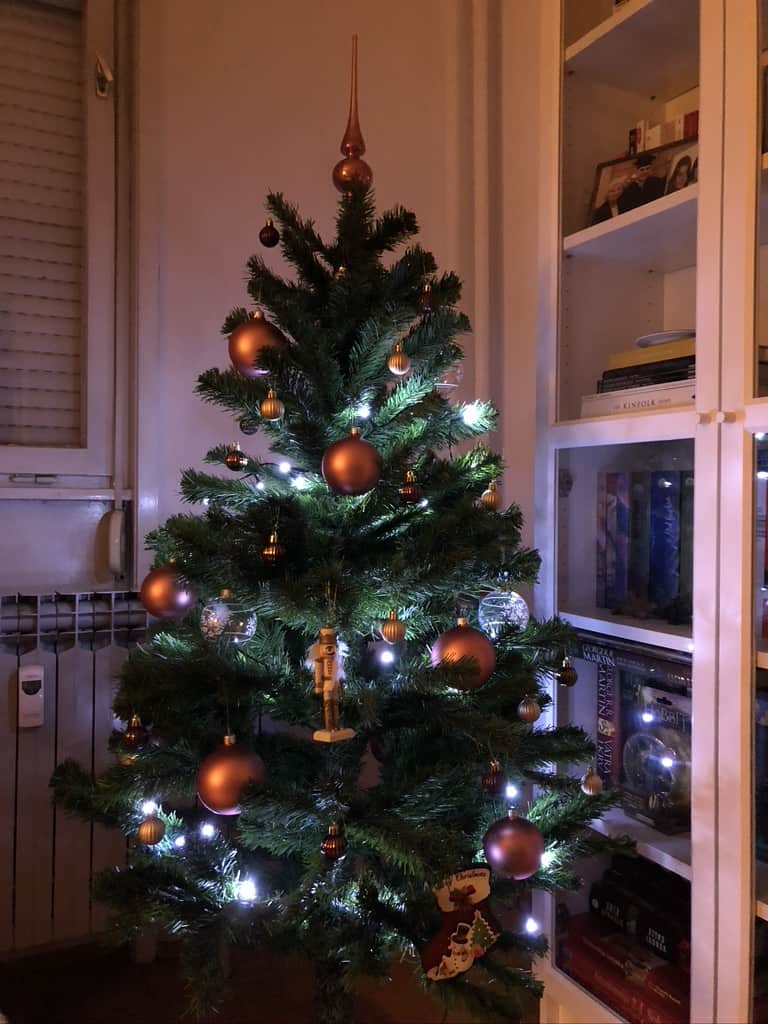 If you live in a small space or have pets, consider buying or making a wall Christmas tree.
Or simply buy a smaller-sized Christmas tree.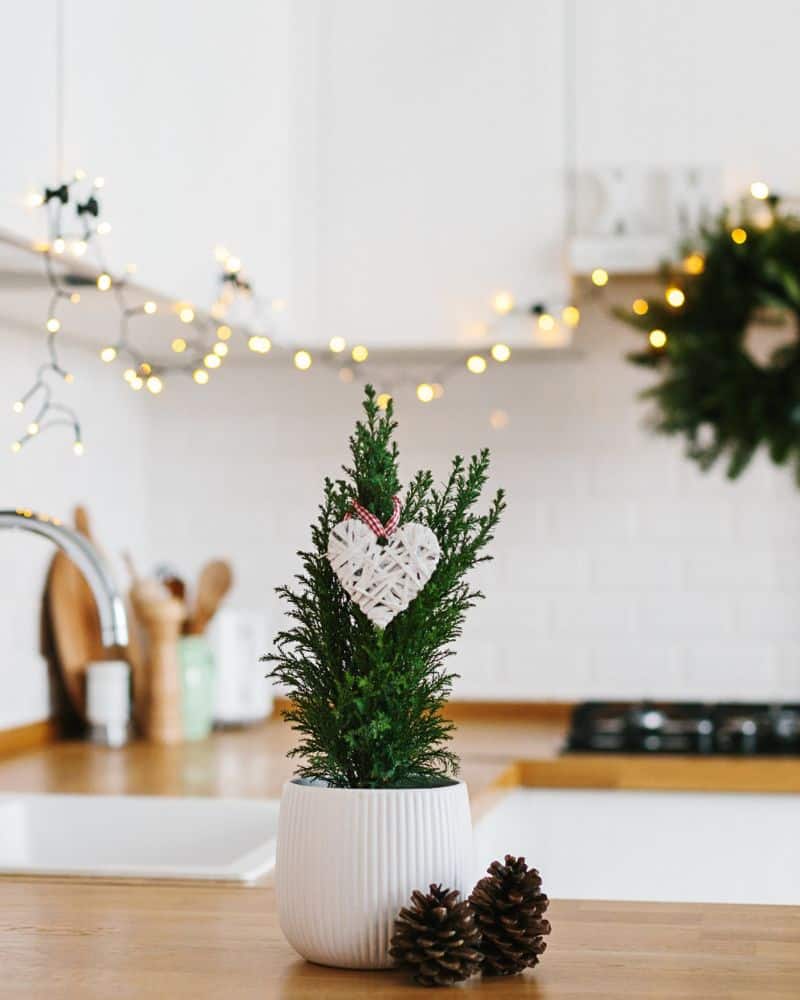 Minimalist Christmas Decor
There are people who love to go overboard with Christmas. They decorate from their yard to their bathroom. Each corner shows it's Christmas time.
If you are more like me and want to contain Christmas decorations to one room only or have simple and cute details spread over the house, find inspiration in these photos.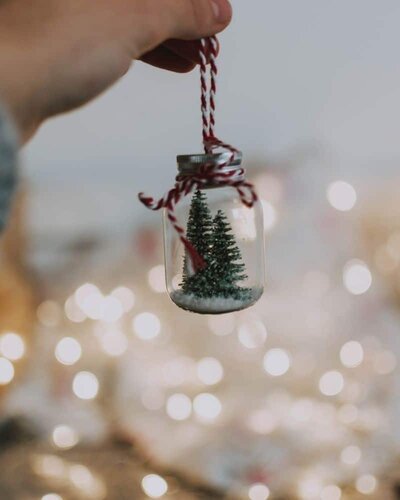 Simple Christmas table:
Christmas wreaths are also a tasteful decoration to add a simple touch of Christmas to your home.
Minimalist Christmas Cards
If you love to include a Christmas card with the present, take a look at these beautiful minimalistic Christmas cards.
Minimalist Advent Calendar
Make a DIY minimalist advent calendar using the items you already have at home. Fill it with fun activities your family can do together instead of candy. Click here for the full tutorial.
What Does a Minimalist Christmas Dinner Look Like?
In 2018 two million turkeys, five million Christmas puddings, and over 74 million mince pies were wasted away during the Christmas holidays in the United Kingdom. And that is the Christmas food waste only in the UK. Imagine how much it is in the whole world?
Please don't add to the already alarming issue of food waste during these holidays.
Savor your favorite Christmas dishes but be intentional when it comes to the quantity of food you will prepare and consume.
Here are a few simple steps to have a more minimalist Christmas dinner this year.
1. Start preparing on time
Talk with your family and make a plan on what to cook in advance. Include your favorite Christmas dishes that are tried and true and you know your guests will eat them.
2. Buy locally
Buy locally grown food, starting from the meat to the vegetables. This way you make your Christmas dinner more sustainable. And arguably more delicious!
3. Cook enough food (not too much)
Count the people who will come to your Christmas dinner and buy enough food for each person to have a generous serving. Take into account dietary restrictions and preferences. Don't buy too much and don't be scared that it won't be enough for everyone.
4. Fewer side dishes
Make fewer side dishes and salads. Prepare a generous meat roast and only the favorites when it comes to side dishes. Don't experiment with new foods that most people won't even try.
5. Fewer cakes
Opt for one or two fewer desserts than usual. It will for sure be enough, and you won't have a lot of leftovers for the following days (or even weeks?). Stick to everyone's favorites.
6. Fewer types of drinks
Similar to the previous points, stick to the drinks you and your guests love and don't experiment with the new flavors that you might not like.
What to do with leftovers?
Eat them the followings days – don't cook new food as long as you don't eat all of the leftovers.
Freeze them – you can freeze everything, from the meat to the cake.
Share them! – give them to your guests to bring home with them, or donate them to a less fortunate neighbor.
Minimalism and Christmas Gifts
Minimalists buy gifts carefully. They take into account what the other person likes, what their hobbies are, or what they expressed a desire to have.
If you want to be more minimal these holidays, take into account the sustainability of your purchases and be intentional in your Christmas gift shopping.
We know that gift shopping is hard in general, let alone when you are trying to minimize your purchases. To make life easier, we made an extensive gift guide for minimalists with clutter-free gift ideas.
Check it out and find the best minimalist presents for your loved ones: 55 Amazing Christmas Gifts for Minimalists.
Minimalist Christmas With Kids
You are probably wondering if minimalist Christmas is even possible with kids, especially when it comes to presents. Well, if you and I were perfectly fine with getting only one present for Christmas when we were younger, then your children will also be.
Your job is to transfer your values onto your children.
If you value a more simple life then your children will also learn to value it.
Explain to your children that they will each get one present for Christmas and ask them what they would like the most. When it comes to the rest of the changes (decor and food) children won't really notice any difference.
If you need help choosing the perfect minimalist gift for your kids, we compiled a fun and clutter-free gift guide for kids.
Read now: 23 Minimalist Gifts for Kids of Different Ages (Fun & Clutter-Free).
Don't be scared to simplify Christmas with your children. They might show some discontent at first, but they will treasure more intentional time spent together in the long run much more.
---
---
Final Thoughts
It is not difficult to simplify your Christmas traditions and minimize the material side of the holidays. A minimalist Christmas will eliminate most of the holiday anxiety and stress and you will finally get to enjoy holidays this year! Don't be afraid to cut some of your old traditions in order to bring more happiness into your home.