Incorporate these simple steps and celebrate a minimalist Thanksgiving without any stress. A relaxed holiday is a new way to go.
Full house and big expectations! Don't stress over Thanksgiving even if you are hosting a Thanksgiving dinner this year. With my help, it's a thing of a past.
What Is a Minimalist Thanksgiving?
A minimalist Thanksgiving means celebrating a more meaningful and simplified holiday. It means cutting down on unnecessary expectations and enjoying the time with your family and friends.
Getting together with your loved ones without a lot of noise and spending is what minimalist Thanksgiving is all about.
Also, as the name suggests, Thanksgiving is all about giving thanks. It is a time to reflect and be grateful for everything we have. This goes hand in hand with minimalism because minimalists appreciate modesty and humbleness.
Simplify your Thanksgiving dinner, keep the spending on decor low, and don't get sucked into holiday craziness.
Minimalist Thanksgiving Table Setting Ideas
You can make your Thanksgiving table festive and at the same time simple. Here is what I came up with only using the items I had at my home.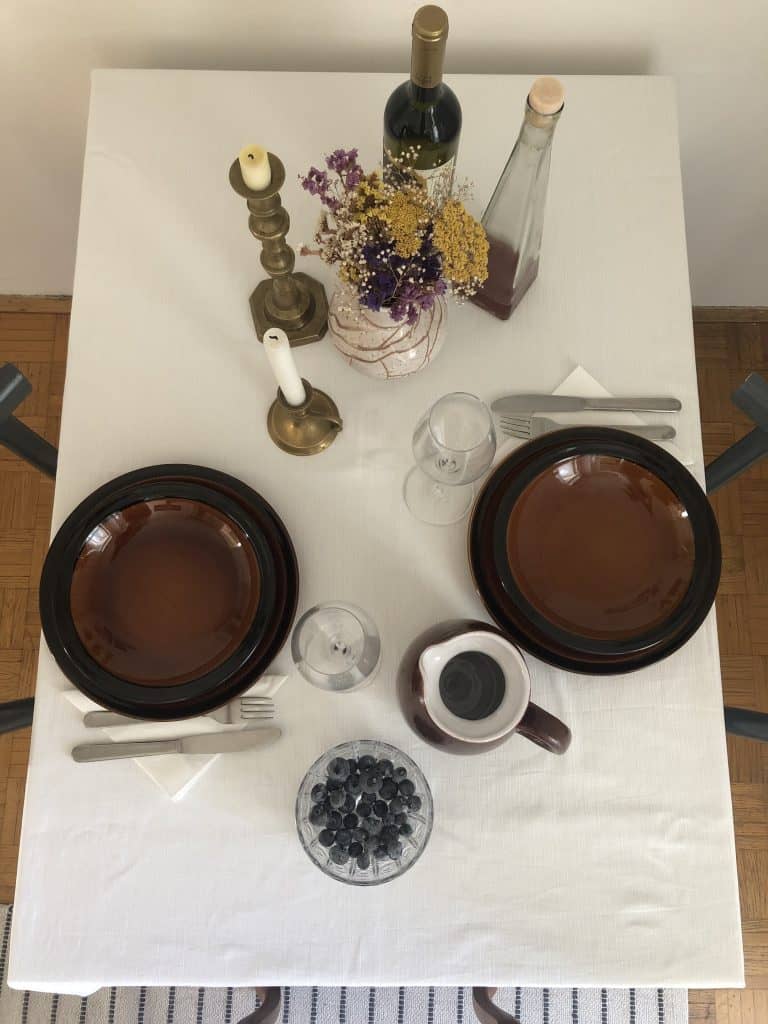 This might be too simple for some, but I love to mix and match the items I have in my home (a lot of it inherited) to create new, minimalistic decor ideas.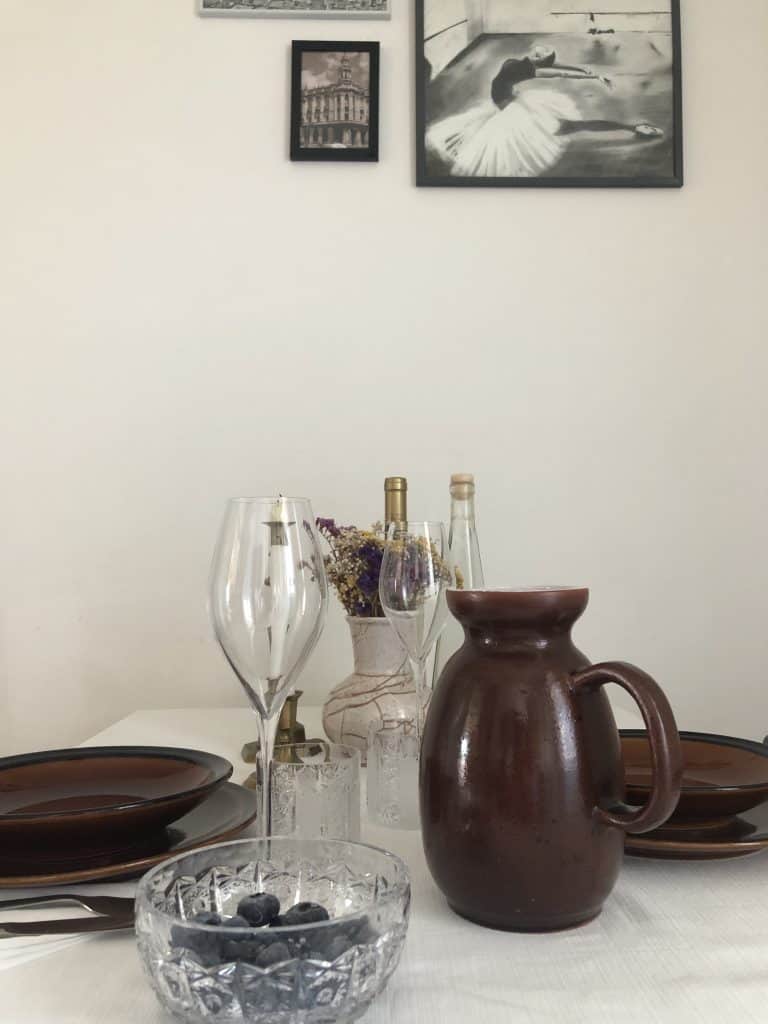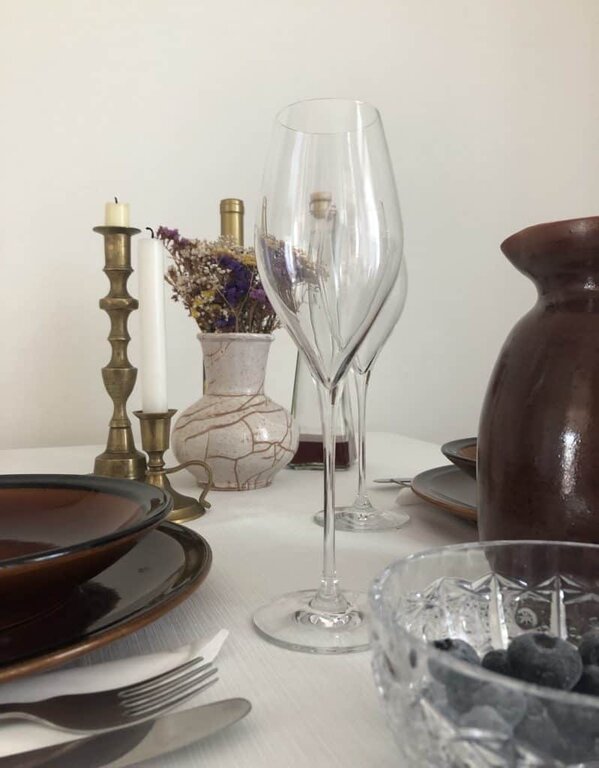 How do you like it? What would you change? Would you add something? Share your thoughts with me! 🙂
To help you keep your Thanksgiving table setting simple and economic, I have compiled a few tips for minimalistic table decor.
1. Source Your Decor From Nature
Leaves, pumpkins, pinecones, dried flowers are some of the most beautiful fall decorations for your home. Take a walk in nature and pick up some decor for your Thanksgiving table.
It is free, sustainable, and gives your table setting an organic feel.
2. Now's the Time to Use Your Fancy Dishware
We all have nice dishware at home that we got as a present or that we are saving for special occasions. Now is the perfect time to bring all your beautiful china, crystal, vases, and champagne glasses to the table.
Minimalism is all about enjoying the items you have, not storing them for a better occasion.
3. Bring Out the Candles
Create a cozy atmosphere for your Thanksgiving dinner by taking out all the candelabras and candles. Whether you decide to put them all on the table or spread them around your living area, they will surely design a perfect mood for your guests.
4. Use What You Have
Don't get caught up in buying new home decor every season. Get creative with the stuff you already have. Mix and match plates, glasses, bottles, and all the other kitchenware you need for your dinner.
This way you will create a more unique and authentic experience for your guests.
3 Simple Steps to Get Your Home Ready for Guests
Having a large number of guests at your home is always stressful, especially at Thanksgiving.
People often forget that to host a Thanksgiving dinner you don't just need to prepare the food (which is a huge task on its own), but also clean and decorate your whole house before the guests arrive.
Don't worry, I am here to help you. My version of a minimalist Thanksgiving includes minimalist cleaning. 🙂
When preparing your home for Thanksgiving focus only on three main areas of your home that guests will visit: bathroom, living room, and kitchen.
Now is not the time for detailed cleaning of every possible surface in your house. To get your home ready for Thanksgiving guests, clean and organize only the areas of your home they will actually see.
The point is to make everything "look clean and organized", it doesn't have to be that way in reality.
1) Bathroom
Clean your bathroom as you usually would, but this time take out everything that you don't want to be seen out.
You can put medications and other "private" things into your closet or a drawer in your bedroom. Nobody will look in there.
We store our bathroom items in baskets and when we have guests over we just cover the baskets with towels. That way they don't attract dust or noisy looks.
2) Living room
If you have a lot of clutter in your living room, the best way to hide it is to utilize any storage space you have in your house. In the worst-case scenario, take everything you don't want from your living room to the bedroom. Again, nobody will look in there.
You can utilize your bedroom as a dumping ground for the holiday.
If you want to freshen up your old furniture, put some couch covers over. Use blankets and pillows to make it cozier. Light up nice-smelling candles and use fall flowers, or pumpkins as decoration.
As I already mentioned, you don't have to buy home decor, utilize what you find in nature. For me, the most beautiful fall decor is dried flowers, and you can easily do that on your own.
3) Kitchen
Create a "bar" area with some finger food and drinks. You can use an old table and a nice table cloth and transform it into a bar. Put it in the empty corner of your kitchen or in the living room and invite your guests to enjoy some refreshments before the main dinner.
This can serve as a perfect entertainment area and the guests won't be in your way while you are finishing preparing the meal.
Celebrate Minimalist Thanksgiving
Make your life easier and celebrate a more simplistic Thanksgiving this year. Be intentional with your time, decorations, and food. Spend time with a select group of loved ones, and for once, actually enjoy the holidays!
Plus, after a more minimalist Thanksgiving dinner, you won't feel like you have a food baby! 🙂