In our day-to-day life, it's sometimes hard to see the bright side of life. These positive thinking quotes will improve your day and change your perspective on life.
This blog post contains a collection of positive thoughts, inspirational quotes, and encouraging words to help you think positively.
The Power of Positive Thinking
Positive thinking is defined as a decision to focus on the good in any given situation. It doesn't mean that you are unrealistic, it is just an optimistic perspective of life.
Many studies have proven both physical and mental benefits of positive thinking, and some of them include:
Longer life span
Lower blood pressure
Better stress management
Clearer thinking
More creativity, etc.
To illustrate, those people who are, for example, exposed to the flu, but have a positive attitude, are less likely to be sick. They have a more hopeful view of the future and therefore live a more healthy lifestyle. Isn't that powerful?
However, your bad thoughts can't just magically disappear overnight.
You need to practice positive thinking for it to come more naturally.
One way is through meditation where you focus only on positive thoughts. 
You can also do gratitude exercises where you list all the things you are grateful for in your life. 
Through those practices, you start to appreciate everything you have and it's easier to look at the bright side of things.
Motivational Quotes
Do you need a little push every once in a while?
Whether you're beginning a new project, working on an important task, or just getting out of bed in the morning, these motivational quotes can get your day started right.
***
"Accept yourself, love yourself, and keep moving forward. If you want to fly, you have to give up what weighs you down." – Roy T. Bennet
"Yesterday is not ours to recover, but tomorrow is ours to win or lose." – Lyndon B. Johnson
"The positive thinker sees the invisible, feels the intangible, and achieves the impossible." – Winston Churchill
"Life's battles don't always go to the stronger or faster man. But sooner or later, the man who wins is the man who thinks he can." – Vince Lombardi Jr.
"A man sees in the world what he carries in his heart." – Johann Wolfgang von Goethe
"It will never rain roses: when we want to have more roses, we must plant more roses." – George Elliot
"In every day, there are 1,440 minutes. That means we have 1,440 daily opportunities to make a positive impact." – Les Brown
"I've always believed that you can think positive just as well as you can think negative." – James Baldwin
"We all have two lives. The second one starts when we realize we only have one." – Confucius
"Always be a first-rate version of yourself,
 instead of a second-rate version of somebody else." – Judy Garland
Positive Thinking Quotes for Work
Work can be hard, and oftentimes it's hard to focus on your tasks if you think you can't succeed.
Make every day a good one by using these positive thinking quotes to improve your outlook on work and help you achieve more.
***
"Don't waste your time in anger, regrets, worries, and grudges. Life is too short to be unhappy." – Roy T. Bennet
"Positive thinking is like fuel to the car. It will keep you energized throughout your work." – Chris Carey
"The greatest discovery of all time is that a person can change his future by merely changing his attitude." – Belle Étoile
"We must believe that we are gifted for something, and that this thing, at whatever cost, must be attained." – Marie Curie
"Learn from yesterday, live for today, hope for tomorrow. The important thing is not to stop questioning." – Albert Einstein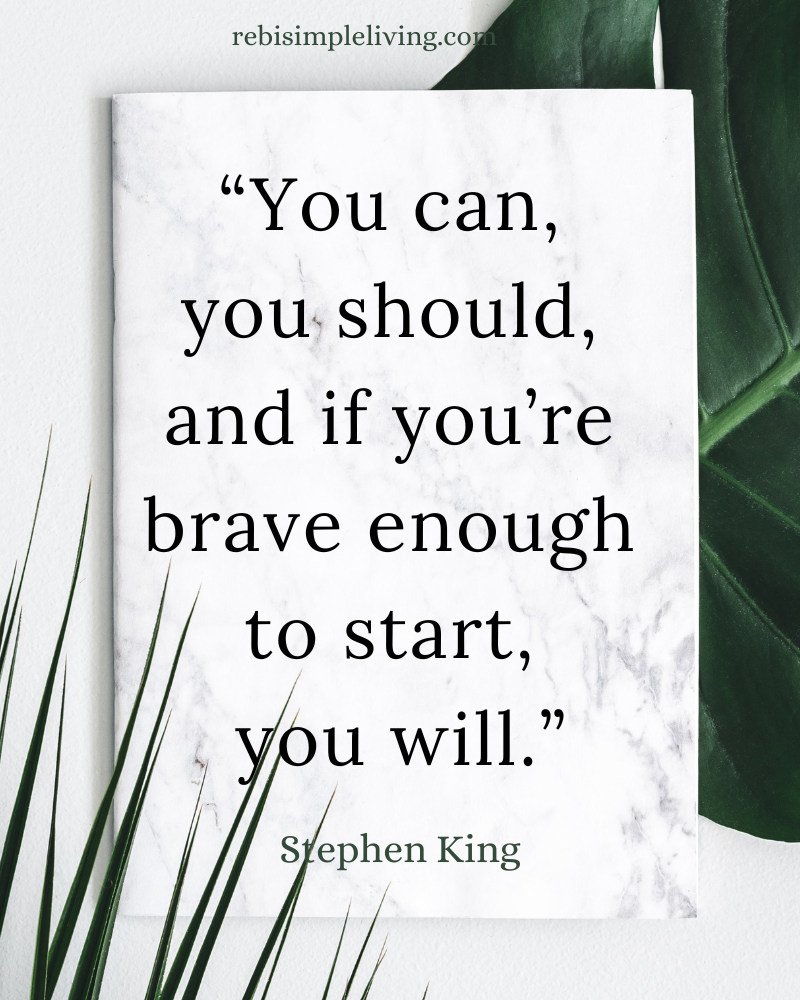 "You can, you should, and if you're brave enough to start, you will." – Stephen King
"Life is 10% what happens to us and 90% how we react to it." – Charles R. Swindoll
"Our greatest weakness lies in giving up. The most certain way to succeed is always to try just one more time." – Thomas Edison
"Twenty years from now you will be more disappointed by the things that you didn't do than by the ones you did do." – H.Jackson Brown Jr
"The best time to plant a tree was 20 years ago. The second best time is now." – Chinese Proverb
"In the end, it's not the years in your life that count. It's the life in your years." – Abraham Lincoln
"Sometimes, when things are falling apart, they may actually be falling into place." – Unknown
Short Positive Thinking Quotes
Do you need some short positive thinking quotes to include in your journal?
Here is a collection of short, but powerful quotes that you can use as inspiration on your journey towards positive thinking.
***
"Do not fear failure but rather fear not trying." – Roy T. Bennet
"Things have a way of working themselves out if we just remain positive." – Lou Holtz
"We become what we think about." – Earl Nightingale
"Be the change that you wish to see in the world." – Mahatma Gandhi
"Believe you can and you're halfway there." – Theodore Roosevelt
"I will go anywhere as long as it's forward." – David Livingston
"Miracles happen to those who believe in them." – Bernard Berenson
"You can have it all. Just not all at once." – Oprah Winfrey
Funny Positive Thinking Quotes
Laughter is the best medicine. When life gets you down look at these funny positive thinking quotes and laugh your way through positivity.
***
"Always be positive. Trips down the stairs: Whew, I got down those stairs fast." – Unknown
"A positive attitude may not solve all your problems, but it will annoy enough people to make it worth the effort." – Herm Albright
"Life is a shipwreck but we must not forget to sing in the lifeboats." – Voltaire
"Success is falling nine times and getting up ten." – Jon Bon Jovi
"Keep your face always toward the sunshine—and shadows will fall behind you." – Walt Whitman
Pin it for later:
Positive Thoughts for the Day
Although a positive outlook on life isn't always easy to achieve, there is always something to be grateful for.
Use these positive thinking quotes as motivation in your daily life. Bookmark the post and come back to it every time you need a pick-me-up.
Never give up and always look forward to the future. One of my friends always says: "Things always end up good. If they are not good, it's not the end." And her words have shown to be true so many times!
Positive thinking will help you endure the bad times and appreciate the good times even more. You just have to live through the end of them.