Summer is coming to a close and we are ready to say goodbye and enter the new season. Commemorate the end of the summer with these August quotes and get ready for autumn!
First Day of August Quote
Welcome August with this poetic quote from Sylvia Plath:
"Today is the first of August. It is hot, steamy and wet. It is raining. I am tempted to write a poem."
Beautiful Quotes About August
When thinking about August you imagine warm and sunny days, and lazy summer days. Although days are getting shorter there is still so much summer beauty in every August day.
Check these beautiful quotes about August and get inspired to enjoy all this month has to offer.
"Less than a month ago all of August still stretched before us – long and golden and reassuring, like an endless period of delicious sleep" – Lauren Oliver
"Everything good, everything magical happens between the months of June and August."- Jenny Han
"That August time it was delight. To watch the red moons wane to white." – Algernon Charles Swinburne
"Did you know that a bee dies after he stings you? And that there's a star called Aldebaran? And that around the tenth of August, any year, you can look up in the sky at night and see dozens and dozens of shooting stars?" – Elizabeth Enright
"August rain: the best of the summer gone, and the new fall not yet born. The odd uneven time." – Sylvia Plath
"Remember to be gentle with yourself and others. We are all children of chance and none can say why some fields will blossom while others lay brown beneath the August sun." – Kent Nerburn
End of Summer Quotes
August is the last summer month and is the perfect time to prepare yourself for the upcoming colder months.
This month marks the end of a season both literally and metaphorically. Say goodbye to summer and get ready for autumn. Reevaluate your goals and let go of things you don't want to carry in the future.
Look at it like this:
The end of something is always the beginning of something new.
"This morning, the sun endures past dawn. I realise that it is August: the summer's last stand." – Sara Baume
"August, the summer's last messenger of misery, is a hollow actor." – Henry Rollins
"August is like the Sunday of summer." – Unknown
"Every year, the bright Scandinavian summer nights fade without anyone's noticing. One evening in August you have an errand outdoors, and all of a sudden it's pitch-black. It is still summer, but the summer is no longer alive." – Tove Jansson
"If June was the beginning of a hopeful summer, and July the juice middle, August was suddenly feeling like the bitter end." – Sarah Dessen
"August was nearly over – the month of apples and falling stars, the last care-free month for the school children. The days were not hot, but sunny and limpidly clear – the first sign of advancing autumn." – Victor Nekrasov
Funny August Quotes
We found some funny August quotes for you to have a laugh!
Take a look at them:
"The month of August had turned into a griddle where the days just lay there and sizzled." – Sue Monk Kidd
"August is a gentle reminder for not doing a single thing from your new year resolution for seven months and not doing it for next five." – Crestless Wave
"August brings into sharp focus and a furious boil everything I've been listening to in the late spring and summer." – Henry Rollins
Each month brings something to look forward to. Use these August quotes to create an intentional August full of happiness and fun!
Include them in your journal or calendar to inspire you each step of the way.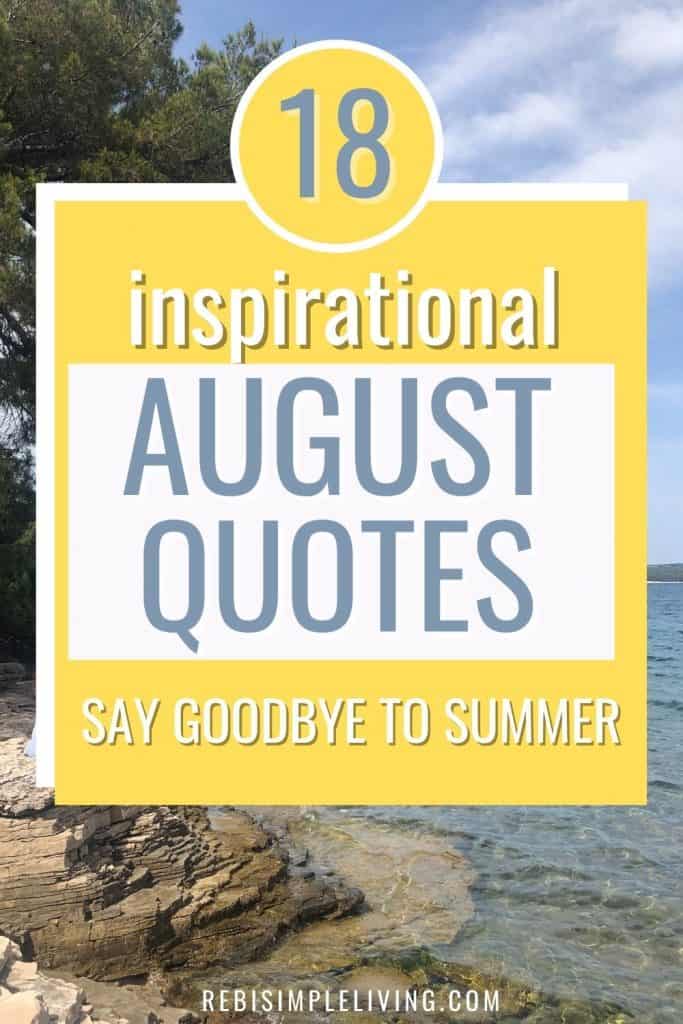 Which August quote inspired you the most?
More Inspirational Quotes:
25 June Quotes for the Start of the Perfect Summer
30 July Quotes: To Best Motivation To Include in Your Calendar