Are you ready for the month of love, February? Get excited for the shortest month in the year with these inspirational February quotes!
Hello February Quotes
February is the last month of winter. It makes us full of hope for the spring but also challenges us to be patient and endure the cold till the end.
Maybe that's why February is the shortest month of the year?
Say hello to February and welcome the second month of the new year with these quotes.
***
"In the coldest February, as in every other month in every other year, the best thing to hold on to in this world is each other." – Linda Ellerbee
"February—the month of love..?!! No wonder the shortest one in the calendar." – Dinesh Kumar Biran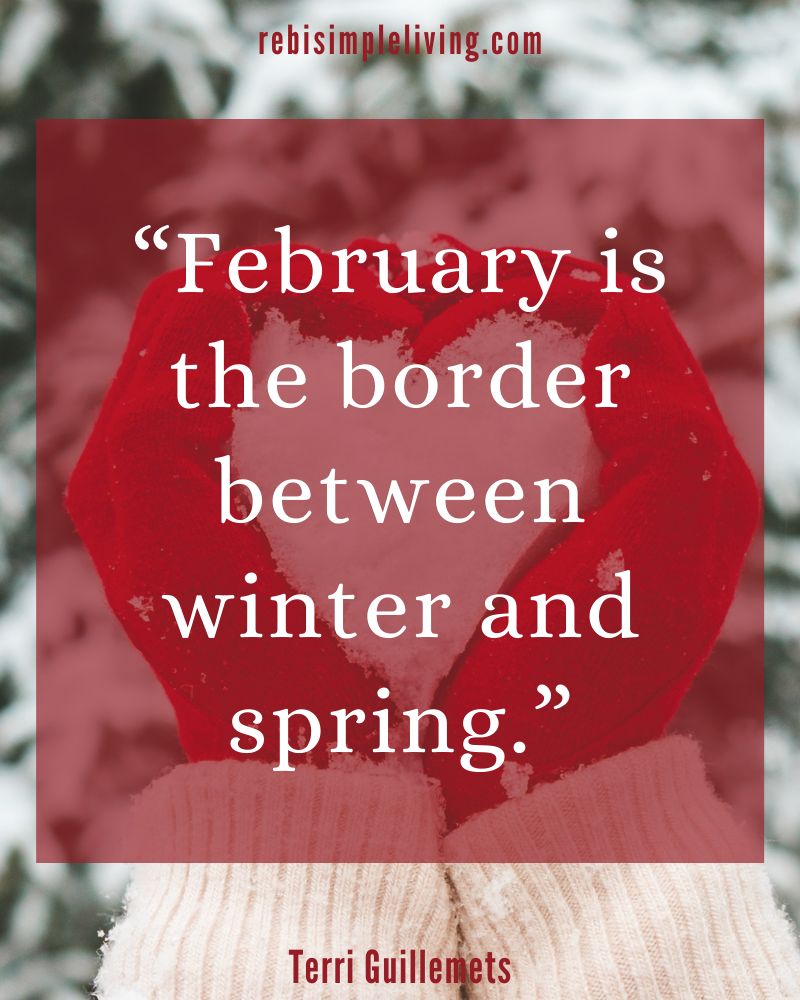 "February is the border between winter and spring." – Terri Guillemets
"Late February days; and now, at last, Might you have thought that winter's woe was past; So fair the sky was and so soft the air." – William Morris
"February is short and very sweet." – Charmaine J. Forde
"While it is February one can taste the full joys of anticipation. Spring stands at the gate with her finger on the latch." – Patience Strong
Motivational February Quotes
Whereas it appears like January lasts forever, life seems to pick up the pace in February. There are more things happening and the world wakes up in the hope of spring.
In February, don't forget about your New Year's resolutions. Keep the motivation high and continue going strong.
Use these motivational sayings to keep you inspired along your journey.
***
"No one's ever achieved financial fitness with a January resolution that's abandoned by February." – Suze Orman
"If January is the month of change, February is the month of lasting change. January is for dreamers… February is for doers." – Marc Parent
"In February there is everything to hope for and nothing to regret." – Patience Strong
"There is always in February some one day, at least, when one smells the yet distant, but surely coming, summer." – Gertrude Jekyll
February Quotes about Love
February is the month of love.
Although it's cold outside let your heart be warm by the love you feel towards your loved ones.
Celebrate Valentine's day this year even if you don't have a romantic partner.
There are different kinds of love and they all should be celebrated on February 14!
***
"In February when my garden is barren of flowers, you are the only flower blooming in my heart. I cherish you and adore you with all of my heart because you are my Valentine." – Debasish Mridha
"Though, February is short, it is filled with lots of love and sweet surprises." – Charmaine J. Forde
"Without Valentine's Day, February would be… well, January." – Jim Gaffigan
"In the best of all possible worlds, February 14 is a pleasant and sentimental opportunity to lavish your partner with attention or move your relationship to the next level." – Pepper Schwartz
"The only bubble in the flat champagne of February is Valentine's Day. It was no accident that our ancestors pinned Valentine's Day on February's shirt: he or she lucky enough to have a lover in frigid, antsy February has cause for celebration, indeed." – Tom Robbins
Funny February Quotes
We can always use a good laugh.
Check out these insightful and funny quotes about February that will make you chuckle.
***
"February is for curmudgeons, whinge-bags, and misanthropes . . . it's so short. There is nothing good about it, which is why it's so great." – Lionel Shriver
"Do not rely on February . . . The sun in this month begets a headache like an angel slapping you in the face." – Anne Sexton
"February is the shortest month, so if you're having a miserable month, try to schedule it for February." – Lemony Snickett
"The day and time itself: late afternoon in early February, was there a moment of the year better suited for despair?" – Alice McDermott
"February is just plain malicious. It knows your defenses are down." – Katherine Paterson
Leap Year Sayings
Every fourth year in the calendar there is an extra day in the month of February.
We call that year a leap year and it's a truly unique experience for those that celebrate birthday on February 29.
***
"29th February … It is the only day that makes February truly unique." – Ernest Agyemang Yeboah
"A strange amazing day that comes only once every four years . . . A day of temporal tune up." – Vera Nazarian
"Your birthday happens each year on exactly the same day. It is a solid thing, a dependable thing, a measure of your life broken down into 365 subunits. For a Leaper, it is a bit different. For us, the basic assumption is shattered from the beginning." – Rick Tumlinson
***
Pin for later:
Insights about February
Even though February is the shortest month of the year, don't just rush through it. Use this month to continue working on your New Year's goals and building new habits.
Since it's also a month of love, try to practice more love and kindness towards the people in your life. Relish the time you spend with them and use it wisely.
This list of February quotes will help you get ready for this month and hopefully motivate you.
If you enjoy journaling use your favorite quotes as prompts going deeper into understanding them.
You can also use February sayings as Instagram captions, or even save our images on your phone or desktop background!
Hope you have a wonderful February this year!
You might also enjoy these articles:
23 Inspirational March Quotes to Welcome Spring
19 Funny and Inspirational January Quotes for the New Beginnings