Minimalist aesthetic has become popular over the past couple of years with the rise of Scandinavian and Japanese minimalist interior design.
In this article, we will give you an outline of minimalist interior design and simple tips to create a minimalist aesthetic in your home.
What Is a Minimalist Aesthetic?
Minimalism finds its roots in Zen Buddhism where the focus is on living a simple, fulfilling life, free from attachment to material things.
The minimalist aesthetic is a style that emphasizes simplicity and functionality.
When you first think of a minimalist aesthetic, you picture a white interior with few pieces of minimalist furniture and decorative accessories.
In reality, the minimalist design uses simple colors and clean lines which help make minimalist living space seem larger, brighter, and more spacious than it actually is. But it doesn't mean it should be cold and boring, you can bring as much of your personality into it as you wish.
The goal of a minimalist aesthetic is to avoid clutter, confusion, or chaos. If you want to create a minimalist interior you need to be flexible and creative enough. This is why we want to teach you how to apply minimalist principles to your home.
Can Minimalist Aesthetic Be Colorful?
It's easy for minimalist decor enthusiasts to mistake minimalist style for white space in your home, but the minimalist design is not all white and clean. A minimalist interior can be colorful and bright without taking away from a minimalist look.
Typical minimalist colors are white, beige, light pink, grey, and black and, as we already mentioned, a minimalist aesthetic is often described as using neutral colors and clean lines. However, that doesn't prevent you from adding a pop of color here and there.
Your home is your space and if you like to have colors in your home do it!
The basic principle of creating a minimalist aesthetic in your home is to get rid of the clutter. If you have just moved into your home invest in high-quality furniture that is in neutral colors.
This is the easiest way to create a home in which every room fits the overall aesthetic. Then, when you have the basics covered, start adding color through home decor. This way, your home will never feel cluttered or tacky.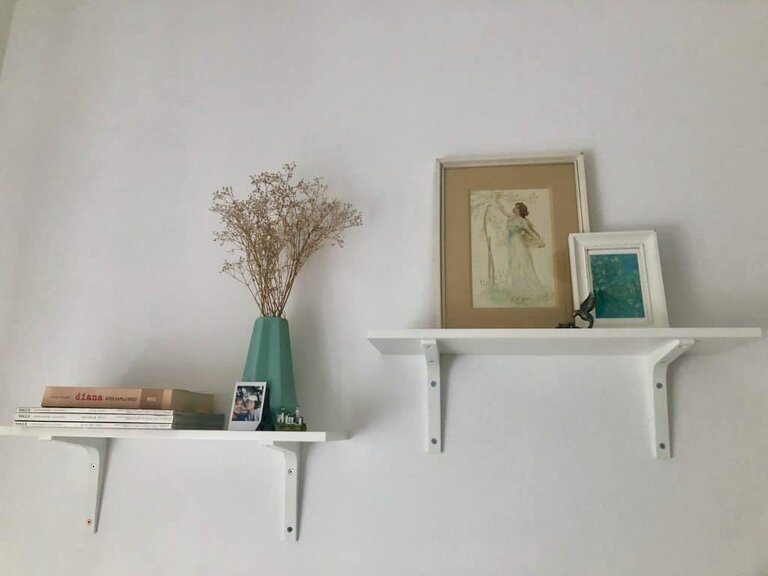 Minimalist Aesthetic Style
Although we focus on home design in this article, we also want to mention minimalist aesthetic in other spheres of life.
You can apply principles of minimalist aesthetic to your wardrobe, make-up, nails, and lifestyle.
Create a cohesive and simple style that you will transfer to all fields of your life. Use a simple aesthetic and design your signature look.
That way you will always know what you like and what goes with the items you already own. You will get rid of the stress of shopping and getting ready in the morning.
When everything matches, you always look put together and elegant.
RELATED ARTICLE: Aesthetic Minimalist Quotes to Encourage You on Your Minimalism Journey
5 Tips to Create Minimalist Aesthetic in Your Home
Use these 5 simple tips to create a minimalist aesthetic in your home and enjoy in a clutter-free, elegant living space.
1. Take your time
When you are moving into a new place, you want to buy everything new and quickly fill up your home. We understand the enthusiasm, but we advise you to take your time.
Take the time to understand your space and the needs of your family. Get inspired by different styles and do your research when it comes to the more expensive pieces of furniture.
Don't rush to buy everything at once.
Find the best value for your dollar and then choose to purchase it.
Live for a while without any decor. After some time you will notice what you are missing and what kind of decor you would like to have. Over time you can slowly purchase the art pieces, or frame the photos and add them to your living space.
This way you will appreciate the things you bring into your home for a much longer time and won't get bored quickly. You will also more probably buy items that match each other and are of higher quality.
2. Declutter
With a minimalist aesthetic, you want to create a calm and peaceful environment in your home. There is no space for clutter and unwanted stuff. Especially if you are moving, then it is the perfect timing to declutter.
Go through all your belongings and discard the things that no longer spark joy or serve their purpose.
You will feel lighter and happier when surrounded by only things that you and your family want.
3. Invest in timeless pieces
Don't follow trends. When you are decorating your home minimally there is no space for fads that will go out of style quickly and will have to be replaced soon.
Get inspired by the classic design and invest in timeless, high-quality pieces. They can be easily adapted to any style and will fit your home aesthetic for a long time.
Examples of timeless pieces:
dark blue sectional that fits all your family during movie nights and doesn't show stains or pet hair,
white, wooden kitchen with lots of storage and all the appliances you need for making a nice dinner,
comfortable, king size bed that will guarantee you a good night's sleep,
custom-built wardrobe to fit all your clothes and shoes in one place.
Think of decorating your home as creating a collection. You want to buy furniture for different rooms that will create a unified collection in your home.
Once you set the basics in your home, you can start adding color, decorations, or trendy items if you want to.
RELATED ARTICLE: Quality Over Quantity Explained by a Minimalist
4. Choose a color scheme
In the previous tip, we advise looking at your home as a collection. Before redecorating anything choose a color scheme to go by.
If you want to follow a minimalist aesthetic style, opt for neutral colors. Colors like white, beige, grey, dark blue, and black match perfectly together and are easy to combine.
White walls are easy to maintain and are the cheapest to freshen up. You can also hang different, colorful paintings and photos on white walls and they will still look cohesive and elegant.
Furniture in basic colors will always be in style and you will never have to worry if something new will fit the existing items in your home.
Add pops of color through different decorations like throw pillows, blankets, wall art, candles, and other accessories.
5. Create hidden storage
As a minimalist, you want to create your home to be clutter-free and clean. You don't have to get rid of all your stuff to achieve that.
You just have to get creative when it comes to storage space. Organize your belongings so that everything has its place.
Find furniture pieces that have dual purposes. For example, a bed or a couch that has storage underneath.
Have custom-built closets that will utilize even the smallest spaces in your home. Don't worry if they are empty at first, it is always good to have extra storage space especially if you have children.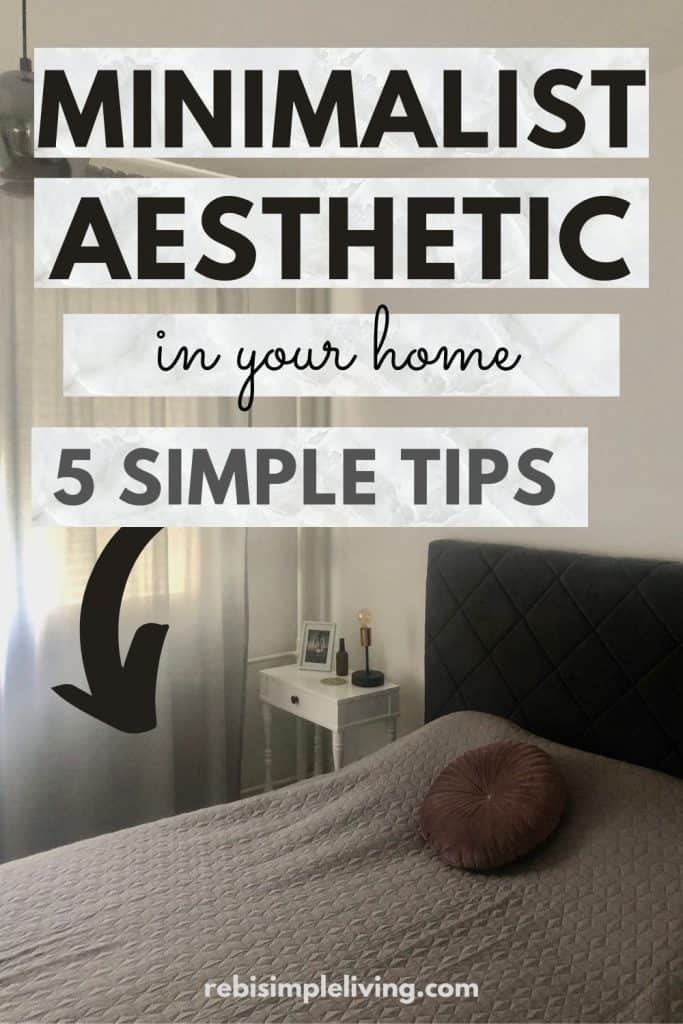 Your Home Is Your Oasis of Peace
We spend so much time at home, and a minimalist aesthetic in our living space can do wonders for us. It makes us feel calmer and more relaxed and it contributes to our well-being and general happiness.
Your home should be your oasis of peace so create one by implementing our simple tips.
Looking for more minimalist tips? Check out 15 Minimalist Life Hacks for a Simpler, More Meaningful Lifestyle!