We all know how it is. We want to make our lives better but we can't seem to find the time to do it. Waking up feeling tired and run down, having never woken up early enough or rested enough during the day, and just generally wanting to push the pause button on our lives. How can we live a longer, better life? How do we stop working too much in 2023?
Stop Working Too Much – FAQ
Find the answers to the most commonly asked questions below.
How many hours of work is too much?

This varies from person to person. How long you can function without rest depends on how well-rested and happy you are with your life. It could be that working 16 hours a day, every day, might not be the right decision for you and that taking time off each week will make you happier and more productive. How long you work depends on how happy and satisfied you are with your life.

What are the symptoms of overworking?

Some symptoms of overworking include: Feeling tired all the time but not being able to sleep; feeling like you need a week off; never taking breaks from your computer (or even just never leaving your desk); feeling like you can't find time to do anything else in your life than work; and the inability to relax and wind down at night. How many hours of work is too much depends on whether you're satisfied with your life or not.

How do I stop myself from working too much?

It may feel like you're stuck in a rut and that work is all you have, but there are some things that might help. How to stop yourself from overworking can include planning out your week, scheduling downtime for hanging out with friends, setting up the atmosphere of your house to help you relax, and taking your lunch break away from your desk (and preferably eating away from the computer). 

5 Tips to Stop Working Too Much
Overworking actually leads to lower productivity and therefore decreases the amount of work you do. It brings serious side effects to your health (from lack of sleep to stress-related illnesses) but also, contrary to popular belief, your employer doesn't benefit from it at all.
There are practical and simple ways to prevent yourself from working too much and streamline your workflow.
You can find them below.
1. Give yourself restrictions
Plan out your week by picking specific days off and times where you're allowed to work. If you give yourself restrictions, it can be easier for you to decide what is the best amount of time that you should work during a weekday or at night.
Try not to cross these set times and actually stop working when you said you will. This will help you make boundaries between your work and personal life.
Stopping work at a certain time will leave you enough time to rest and recuperate and avoid burnout.
2. Simplify your life
Make your life as simple as you can outside of your work. Build daily routines that will help you stick to good habits and will streamline your life effortlessly. That way you can avoid decision fatigue and free your mind to focus on work.
Work on planning out your meals, outfits, commitments, etc. on the weekend so that when work week comes around you are ready to tackle your tasks without outside distractions.
3. Get rid of distractions
When it comes to distractions they can be the death of your productivity. Something can come up every couple of minutes and stop your workflow.
If possible create physical boundaries between your work desk and your typical distractions. That means, close the door, wear noise-canceling earbuds, or set your e-mail status to busy (do not disturb mode).
Try to make a distraction-free zone at your home or workplace and let everyone know that between certain times you are not available. This will allow you to have at least an hour or two of deep work periods.
4. Focus on the most important task
Learn to prioritize your tasks. You certainly have tasks that are not urgent and that you can do whenever because they won't bring much value to your company. Leave those tasks for the end of the day when you have less energy.
On day to day basis focus on the most important task at hand. It will take up most of your time and energy but in the end, will bring the most benefit to your company in the long run.
Also, get to know your working habits, and find out the times when you are most productive. For some, it's right in the morning and for others, it's after lunch. Those times are when you should do your main work.
It's also easier to focus on one task at hand than to juggle many things at the same time. That's how you will overwork yourself and burn out quickly.
5. Learn to say no
By learning to say no I mean saying no to the things that will distract you from your main work. I don't mean to say no to your boss and get into an argument.
Learn to recognize opportunities that you should better turn down. Sometimes you are offered more responsibilities at work but you know that you don't have enough time to do them all. Then you should, through open communication, let your boss know that you can't take on more before you delegate some of the work to another co-worker.
Also, sometimes your colleagues will go out to lunch and you will have to stay working because otherwise, you won't manage to finish in time. It's better to say no on certain occasions and get out of work at regular times than to stay longer because you hung out with them.
When you know your priorities then it's easy to set some boundaries and focus on what's most important to you.
***
Bookmark or Pin for later: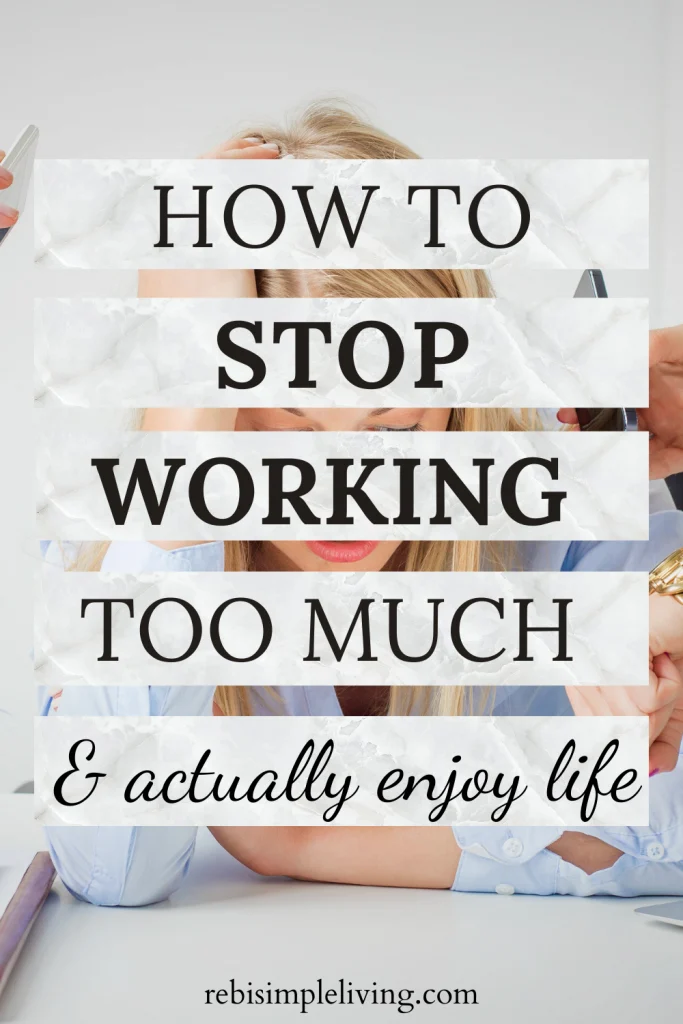 Stop Working Too Much and Enjoy Life
Nobody benefits from working too much. Not you nor your boss.
Follow these 5 tips at work and organize your workday efficiently.
When at work give a 100%, but know how to unplug when the end of the workday comes.
Build clear lines between your work and your personal life.
Use your free time to relax,
spend time doing what you love,
hang out with your loved ones,
and make sure you get enough sleep.
Decide to stop working too much in the new year and actually live. You only have one.