Ask any materialistic person what they want in life and the answer will be a house, nice car, boat, etc. They'll be right however these material things can make us happy only for a while.
Check out why below.
What Are the Material Things in Life?
Material things are tangible items that you buy with money.
Examples of the material things most people aspire to have are a big house/apartment, a nice car, luxury clothes, shoes, accessories, bags, new furniture and appliances, in short, things to show off.
Is It Bad to Like Material Things?
It's not bad to like material items, and there is no way to live completely without any material goods.
But the problem occurs when they become the center of your life. If you only value materialistic things you own or wish to possess you lose focus on what's really important in life.
You concentrate only on making money to buy the things you don't have, usually to impress other people.
What materialistic people don't realize is that shopping and material possessions provide only short-term happiness. And to keep that feeling of excitement of buying a new item you need to continue buying new things.
This action traps you in a vicious circle of spending and prevents you from ever being completely satisfied.
Why Material Things Will Never Make You Happy
As already mentioned, materialistic people are less likely to be happy because material goods provide only short-term happiness.
After you acquire material objects to sustain your happiness, dissatisfaction continues. This discontentment is inevitable since material goods are ultimately incapable of creating deep, lasting satisfaction.
Although material objects provide a level of pleasure, they are incapable of fulfilling the basic psychological needs for autonomy, competence, and relatedness.
Long-term happiness can only come from other places like family, hobbies, career, traveling, etc.
5 Reasons Why Things Will Never Make You Happy
Here are 5 main reasons why material things don't make you happy in the long run.
1. There Are Always New Things to Buy
The novelty of new objects wears off pretty quickly while leaving you feeling empty after a short while.
In order to sustain your happiness with physical things, you need to keep buying new stuff thus going in circles and continuing spending money.
Chasing trends and new releases is a wild goose chase. You will never be able to keep up with all the new things that come up and thus you will always stay behind.
2. Nothing Lasts Forever
Possessions require maintenance and they lose value over time.
Material things that make you happy last only so long and you have to put effort to keep them last as long as they can.
The more things you own, the more time, money, and effort you have to invest. While shopping, consider buying quality over quantity, thus putting your money into things that will certainly last longer.
Lastly, nothing lasts forever, and the material goods you were so happy to own will eventually break down.
If you become emotionally tied to your material possessions you will feel disappointment and sadness when they stop working or fall apart.
Don't let your belongings manage your emotional state.
3. Keeping up With the Joneses Is Impossible
You will never be able to compete with everybody if you compare material things that you possess with those of others.
While you might have more stuff than a regular Joe you will always be behind somebody because keeping up with the Joneses is impossible.
Don't let comparison be the thief of your joy. Live your life the way you want to and spend time on things and activities you enjoy. That will lead you to a long-term state of happiness.
4. Clutter Leads to Stress
More things mean more things to clean up and clutter leads to stress.
Instead of constantly decluttering to keep your home tidy next time apply principles of minimalist shopping while you are on the hunt for something new.
Cluttering your home will not bring you happiness it will only lead you to more stress and anxiety. Keep your home clean and tidy and be selective of the things you bring in.
This will bring you much more satisfaction than shopping.
5. Non-material Things Lead to Greater Satisfaction
Non-material things like your time and experiences are more valuable than material things.
Material things might cover your wants, but non-material things like spending time with your family, enjoying your free time, and having a nutritious dinner will cover most of your needs.
Possessions are not important in the long span of life. They should only serve their purpose in our lives, and not dictate the direction our lives take.
Make sure you balance the non-material and material things in your life and you will be calm and happy for a long time.
Pin it for later: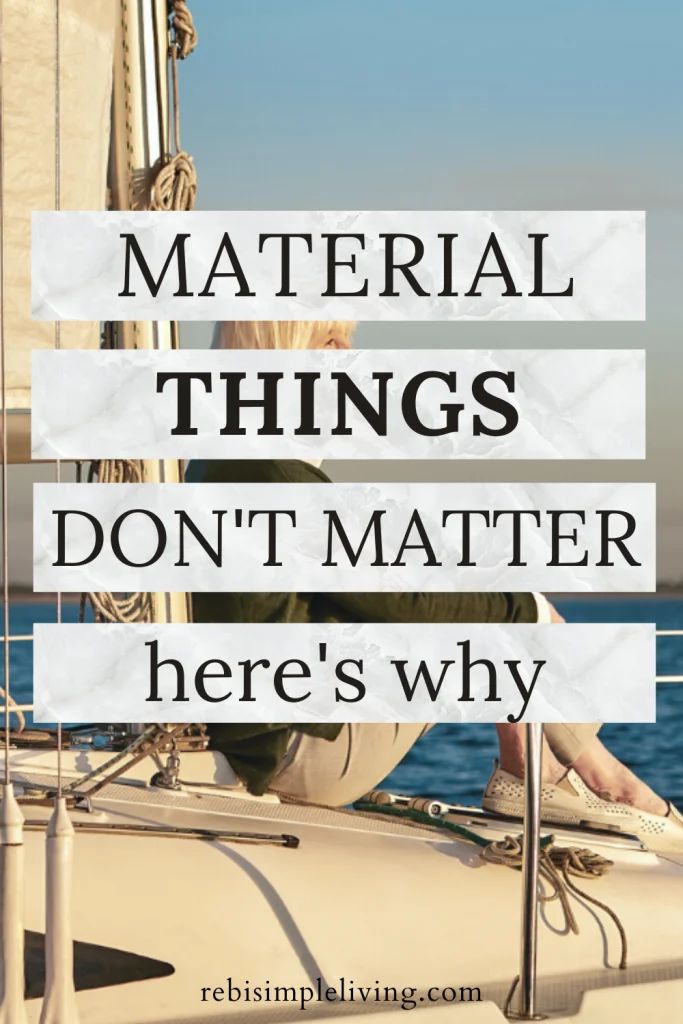 How to Be Happy in Life – Conclusion
As previously stated, material goods are incapable of creating long-term satisfaction.
All the belongings mean nothing if you don't have people you love by your side. 
The best recipe for a happy life is to do things you love to do, spend time with people you love, and contribute to the community around you. All the other things can make you happy but only for a short time.
Longlasting happiness comes from a simple and quiet life without a lot of stress and anxiety.
It's not easy to achieve but it pays off to work hard on.